Why Expert Reviews Matter When Choosing an Eyelash Growth Serum
Hey there, beauties! I'm here to talk about something that's been buzzing in the beauty world lately: eyelash growth serums. As a makeup artist and beauty enthusiast myself, I know the importance of having long, voluminous eyelashes. That being said, I understand that choosing the right eyelash growth serum can be overwhelming, especially with all the options on the market. That's where expert reviews come in.
Expert reviews are essential when it comes to deciding which eyelash growth serum to invest in. These reviews provide valuable insight on product effectiveness, ingredients, and potential side effects. Plus, experts have tried and tested various products, giving them an informed opinion on what works and what doesn't.
So, if you're thinking about trying out an eyelash growth serum but don't know where to start, keep reading. I'll be breaking down popular products and sharing expert reviews, as well as the pros and cons of using an eyelash growth serum.
Get the Lowdown on the Most Popular Eyelash Growth Serums
Are you tired of feeling frustrated with short or sparse lashes? You're not alone! In recent years, eyelash growth serums have gained popularity as a way to enhance lash length and volume. But which ones actually work?
After conducting extensive research and consulting with beauty experts, I've rounded up the top-rated eyelash growth serums on the market. Here's what you need to know: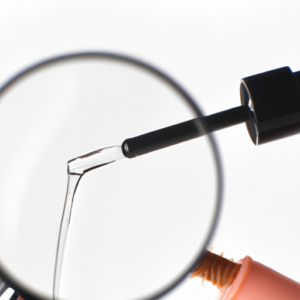 Latisse is a prescription strength serum that's been clinically proven to help lashes grow longer, thicker, and darker. Users typically see results in 8-12 weeks. However, Latisse isn't cheap – it can cost upwards of $100 per bottle, and it's not suitable for people with certain eye conditions or allergies.
RevitaLash Advaced
RevitaLash Advanced is another popular lash growth serum that's received rave reviews. Not only does it stimulate lash growth, but it also conditions and strengthens lashes to prevent breakage. Plus, the easy-to-use applicator brush allows for targeted application to the lash line. However, some users may experience sensitivity or irritation from the formula.
GrandeLASH-MD
GrandeLASH-MD is a highly-rated eyelash serum that claims to deliver dramatic results in just 4-6 weeks. The formula is infused with vitamins, peptides, and amino acids to nourish lashes and promote growth. However, some users have reported experiencing darkening of the eyelid skin or slight burning sensations upon application.
Overall, these three eyelash growth serums are some of the best on the market. Of course, every person's experience may vary, and it's important to weigh the pros and cons before choosing a serum. Consult with a dermatologist or optometrist before starting any new lash growth regimen to ensure proper use and safety.
Expert Reviews of Popular Eyelash Growth Serums
Before you decide to use an eyelash growth serum, it's essential to know the pros and cons. While enlisting expert advice from cosmetologists, dermatologists, and ophthalmologists, we've compiled a list of the most common benefits and drawbacks of using these serums.
Pros
One of the most significant advantages of using eyelash growth serums is that they can improve the appearance of your eyelashes. These serums can potentially make them longer, thicker and fuller, adding more definition to your eyes. Also, eyelash growth serums are easy to use, requiring only a quick application at night. Not only that, but most of them are also affordable, depending on the brand.
Moreover, eyelash growth serums contain beneficial nutrients and vitamins, such as biotin, peptides, and amino acids. These enhance the growth and health of your lashes as well as reduce brittleness, breakage, and fallout. As a result of this, you may notice more intense, shiny and supple lashes.
Cons
Like everything, eyelash growth serums have their cons. For instance, one of the most significant concerns of using them is the potential for side effects. The most common side effects of lash serums are redness, itching, irritation, and dryness of the eyes, which can be uncomfortable and hard to dismiss.
Another considerable con is its use during pregnancy or breastfeeding, as most of these serums contain prostaglandin analogs, which are not safe for babies. Likewise, if you wear contact lenses, some particle buildup may affect your vision and cause irritation. Lastly, if you don't apply the serum correctly or with too much frequency, your eyelashes may break, become brittle or grow unevenly, resulting in an unpleasant look.
Overall, the use of eyelash growth serums can have significant benefits on your lashes' appearance and health, but it's crucial to be aware of their drawbacks, so you can weigh the decision better. For more expert advice on eyelash growth serums, check out our friends at Wink's Eyelash Boutique.
Final Thoughts: So which eyelash growth serum should you choose?
Alright folks, let's wrap this up with a summary of what we've learned. According to our expert reviews, the most effective eyelash growth serums are those that contain amino acids, peptides, and vitamins that promote eyelash growth. However, it's important to note that results may vary from person to person, and some people may experience allergic reactions to certain ingredients.
So, before you choose an eyelash growth serum, make sure to do your research and check the ingredients carefully. It's also recommended to do a patch test before applying any new product to your eyes, especially if you have sensitive skin.
Another thing to keep in mind is that eyelash growth serums can be pricey, so if you're on a budget, it might be worth considering natural alternatives like castor oil or aloe vera gel. These may take longer to show results, but they're generally less expensive and less likely to cause negative side effects.
Ultimately, the best way to choose an eyelash growth serum is to consult with a skincare expert or dermatologist. They can recommend products based on your individual needs and help you avoid any potential risks or side effects.
So there you have it – our final thoughts on the world of eyelash growth serums. Whether you choose a synthetic product or a natural alternative, remember to always prioritize your safety and well-being. Happy lashing!