The Deal with Mascara Brushes: What's the Big Deal?
Hey there! Let's talk about one of my favorite makeup essentials – mascara. Mascara can give you a dramatic look or just enhance your natural lashes with just a few swipes. But, have you ever thought about the importance of the mascara brush itself? I know I didn't early on, but now I'm convinced that the brush is just as important as the formula.
So, what is a mascara brush exactly? Well, it's the applicator that comes with your mascara that helps you apply the product. But, these brushes come in different shapes and forms, and the type of brush you use can make a huge difference in how your mascara looks.
Choosing the right brush can be the difference between clumpy or natural-looking lashes, so let's dive in and learn more about the different types of mascara brushes and how to choose the right one for you.
Discovering the Different Types of Mascara Brushes: Which One Is Right for You?
When it comes to getting gorgeous lashes, the right mascara brush can make all the difference. But with so many different types of brushes out there, it can be overwhelming to choose the right one.
First up, there's the comb-style brush. With long, separated bristles, this brush is perfect if you're looking for defined, natural-looking lashes. It's great for separating lashes and preventing clumping.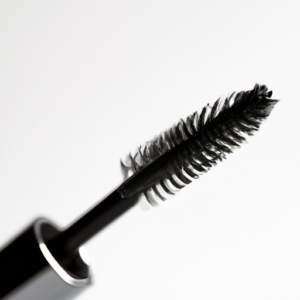 Next, there's the bristle-style brush. This brush has thick, bristled bristles that deliver fuller, thicker lashes. It's perfect if you're looking for dramatic volume and length.
If you're looking for a more precise application, the cone-style brush might be your best bet. Its tapered shape allows you to get into the corners of your eyes and coat every lash. It's also great for defining and separating lashes.
Finally, there's the curved-style brush. With a curved shape, this brush is great for curling and lifting your lashes. It's perfect if you have naturally straight lashes and want to create a more dramatic look.
With these different types of mascara brushes, it's easier to find the right one for your needs.
The Perfect Mascara Brush for a Flawless Look
Let me tell you, choosing the right mascara brush can be pretty tricky. But, as a makeup enthusiast, I've done my fair share of research to find the perfect mascara brush for a flawless look. And let me tell you, it's a game-changer!
The best mascara brush for flawless looks is the bristle-style brush. It's designed with natural or synthetic bristles that help separate and define your lashes evenly throughout. This type of brush is perfect for those with sparse or short lashes as it elongates and volumizes your lashes in a single swipe.
But wait, there's more! The bristle-style brush is also great for layering without clumping, allowing you to achieve that dramatic look without sacrificing lash health. Plus, it's easy to use and perfect for beginners and pros alike.
Now, you might be wondering which brand I recommend. Personally, I've tried various brands and have found that the bristle-style brush from Maybelline's Lash Sensational Mascara is the best. It coats every single lash and gives you a look that is truly sensational!
So, the next time you're on the hunt for a new mascara, give the bristle-style brush a try. Trust me, your lashes will thank you!
Step-by-Step Guide to Mastering the Best Mascara Brush
So, you've got your hands on the best mascara brush out there. Now, let's learn how to use it to achieve those picture-perfect lashes.
Firstly, start by curling your lashes with a curler. This will help your lashes stand out even more and give them an extra lift.
Then, take your mascara wand and start from the root of your lashes. Make sure to wiggle the brush back and forth while moving upwards to ensure that each lash is coated evenly.
To avoid clumps, use the tip of the brush to separate each lash and remove any excess mascara.
Repeat this motion on the other eye, making sure that both eyes have the same amount of product on the lashes.
To give your lashes an extra boost, apply a second coat. But make sure to do this before the first coat dries, to avoid clumps.
And there you have it! Perfect lashes that are sure to leave everyone amazed.
Remember, practice makes perfect! Experiment with different techniques and angles to find what works best for you.
It's a wrap, folks!
Okay, we've made it to the end! So, what have we learned today? Well, we've learned that choosing the right mascara brush is everything when it comes to achieving that flawless look that we all yearn for. Not only does the right brush help you reach every single lash, but it also helps you separate them, making them look fuller and more defined.
Throughout this article, we've explored the four main types of mascara brushes, which are the comb-style, bristle-style, cone-style, and curved-style brushes. While they all have their unique benefits, the best mascara brush for getting that perfect look would have to be the bristle-style brush.
Using a bristle-style brush ensures even application of mascara and separates each individual lash to make them look lush and voluminous. At Winks Eyelash Boutique, we believe that the right mascara brush can make all the difference to your overall look, so be sure to choose wisely!If you want to know more about which mascara brush is best to use, we invite you to check out our website at winkseyelashboutique.com.
All in all, choosing the right mascara brush is an essential component of achieving flawless, full lashes. With the knowledge you have gained from this article, you are now well-equipped to choose the best mascara brush for your needs and get ready to turn heads!