Hey there, beauty enthusiasts! Are you tired of your makeup look being subpar or not living up to your expectations? Well, fear not because I am here to provide you with expert advice on achieving a flawless makeup look. In the world of makeup, flawless means perfect and effortless application that makes you look flawless. It is a look that appears to require little effort, yet looks polished and perfect. Having a flawless makeup look can help boost your confidence and help you look and feel your best.
Must-Have Makeup Products
As a makeup lover, I've learned that there are certain products that you just can't go without. If you want to achieve a flawless look, you need these must-have makeup products in your kit!
First on the list is foundation. This is the base of your makeup and helps even out your skin tone and hide any imperfections. Make sure to choose a shade that matches your skin tone and has the right coverage for your needs.
Next up is concealer. This is perfect for covering up any blemishes or dark circles under your eyes. It also helps to brighten up your face and make you look more awake!
Setting powder is another must-have item. This locks your makeup in place and keeps your face looking flawless all day long. Make sure to choose a powder that matches your skin tone and translucent options work well for all skin types.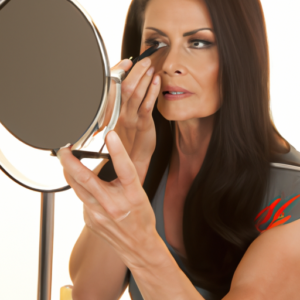 No makeup look is complete without a touch of blush. It adds a natural flush to your cheeks and helps define your face. Consider the formula – powder or cream – that best suits your needs.
Eyeshadow is a great way to add some color to your look. It can range from a natural everyday look or a bold and bright palette. Experiment with different shades and formulas to see what works for you.
Mascara is a simple way to make your eyes pop. Long, thick lashes are the perfect finishing touch to your makeup look. Make sure to choose the right formula for you, whether that be lengthening, volumizing, waterproof etc.
To top it off, lipstick or gloss is a must-have! It adds a pop of color to your lips and pulls the whole look together. Choose from different shades and finishes that work best for you. Whether it be a matte finish or a glossy shine.
So there you have it – the must-have makeup products that should be in everyone's kit if you're aiming to achieve a flawless look. Just remember to experiment with different shades and formulas to find what fits you best!
Unleash Your Inner Makeup Artist: Tools for Flawless Application
Now that we've covered the must-have makeup products, it's time to talk about the tools needed to achieve that flawless makeup look. As a self-proclaimed makeup enthusiast, I can confidently say that using the right tools for application can make all the difference.
Brushes and Sponges
Investing in high-quality makeup brushes and sponges can be a game-changer. Having different sizes and shapes of brushes is essential for applying makeup to different areas of the face. A flat foundation brush, for example, is perfect for applying liquid foundation while a fluffy powder brush is great for setting powder. A blending brush can be used for eyeshadow, while an angled brush works wonders for applying blush. Sponges, on the other hand, are perfect for blending and achieving a seamless finish. Pro-tip: dampen your sponge with water for a more natural finish.
Beauty Blenders and Egg Sponges
Beauty blenders and egg sponges are a must-have for anyone looking to achieve an airbrushed finish. They come in various sizes and shapes and are perfect for blending foundation and concealer. These sponges are designed to give you a flawless, streak-free finish while also providing a natural-looking blend.
Tweezers and Lash Curler
Tweezers can be super helpful when it comes to shaping your eyebrows or applying false eyelashes. A good quality lash curler is also essential for those that want luscious lashes. Use a lash curler before applying mascara for extra lift and volume.
To sum it up, using the right tools for applying makeup can be the difference between a good look and a flawless one. Don't be afraid to invest in high-quality brushes, sponges, tweezers, and lash curlers. These tools will not only help you achieve a flawless look but also make the process of doing your makeup much more enjoyable.
Get that Flawless Look: Other Necessary Items
When it comes to achieving a flawless makeup look, there are a few other items that I consider must-haves in my beauty bag. These items not only help me apply my makeup perfectly but also ensure that my skin stays healthy and radiant. Here are some of my personal favorites:
Makeup Remover
Removing makeup forms an essential part of any skincare routine, and it's crucial to have the right kind of makeup remover that suits your skin type. I prefer using micellar water or oil-based removers that gently dissolve makeup without stripping the skin of its natural oils.
Primer
A primer acts as a base for your makeup and helps it to last longer. It also blurs out imperfections and creates a smooth canvas for the rest of your makeup. I recommend choosing a primer that suits your skin type and concerns, whether it's hydration, oil-control, or color-correcting.
Setting Spray
To lock in your makeup and keep it looking fresh all day, a setting spray is a must-have. Not only does it help your makeup to perform better, but it also adds a healthy glow to your skin. I like to use a setting spray that has a dewy finish for a glowing complexion.
Highlighter
A highlighter is perfect for adding that extra touch of radiance to your face. Whether it's a powder, cream, or liquid formula, a highlighter can be applied to the high points of your face to create a luminous effect. I like to use a champagne or rose gold shade for a natural-looking glow.
With these necessary items in your makeup bag, you are one step closer to achieving a flawless makeup look. Make sure you choose the right products that suit your skin type and concerns to ensure that your skin stays healthy and radiant.
Wrap it Up: Achieving Flawless Makeup in a Breeze
There you have it, friends – my guide to achieving a flawless makeup look. With just a few essential makeup products and tools, you can instantly transform your appearance and boost your confidence.
If you're serious about flawless makeup, investing in good quality brushes and a beauty blender can make all the difference. Don't forget to apply primer to keep your makeup from slipping and sliding throughout the day. And, if you really want your makeup to last, finish off with a setting spray.
One last tip – don't forget to take care of your skin. A good skincare routine can work wonders for your overall complexion and provide the perfect base for your makeup. And if all else fails, don't hesitate to book an appointment with a makeup artist. They have all the skills and knowledge to make you look and feel your best.
Thanks for reading and happy makeup-ing!