Get Ready for Stunning Lash Lifts
Hey there, lash lovers! Are you ready to add some dramatic flair to your eyes with a lash lift? This revolutionary beauty treatment gives your lashes a natural-looking curl and lift to enhance your overall look. In this article, I will take you through everything you need to know about lash lifts, benefits, tips for preparing, and aftercare guidelines.
A lash lift is a semi-permanent treatment that enhances the look of your lashes. The process involves applying a solution to the lashes, which forms a natural lift and curl to the lashes. The results last up to six weeks, making it a popular choice for people who want to avoid the hassle of daily eyelash curling.
Let's talk benefits! Lash lifts have several advantages. Firstly, they open up your eyes, adding a charming effect to your look. Secondly, it makes your eyes appear more prominent, giving off a vibe of alertness. Lastly, it creates the illusion of longer lashes, adding extra flair to your makeup look.
Preppin' for a Lash Lift: What You Need to Know Before Your Appointment
So, you've decided to get a lash lift – good for you, babe! But hold up, before you jump right in, there are a few things you need to consider to make sure you're getting the best possible results.
Choosing the Right Salon/Technician
First up, you need to make sure you're going to a reputable salon with experienced technicians. Don't just go for the cheapest option you find on Groupon – you might end up with wonky, damaged lashes. Do your research, read reviews, ask for recommendations from friends, and make sure the salon uses high-quality products.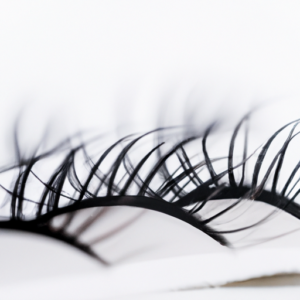 Leading up to your appointment, there are some things you should avoid doing to prevent any issues during or after the lift. Don't wear mascara or any eye makeup on the day of your appointment, and avoid using any oil-based skincare products on your face or around your eyes for 24 hours beforehand. You should also avoid rubbing your eyes or getting your lashes wet for 24 hours prior to your appointment.
By taking these steps, you'll be well on your way to achieving the gorgeous, lifted lashes you've been dreaming of. Now all you have to do is sit back, relax, and let your technician work their magic.
Preparing for a Lash Lift
Okay, so you've gotten a lash lift, and your lashes look fabulous – but now what? To maintain the gorgeous look of your lifted lashes, you'll need to follow some aftercare guidelines. Don't worry – they're not difficult, but they are crucial if you want your lift to last as long as possible!
The first thing you'll need to do is keep your lashes clean. That means avoiding oily makeup removers that can break down the lift solution and sweep away natural oils that keep your lashes healthy. Instead, use micellar water or a gentle foaming cleanser to remove your eye makeup, being careful not to tug or pull on the lashes.
Another important aspect of aftercare is avoiding excessive heat and water for the first 24-48 hours after your lift. This means avoiding hot showers, saunas, and swimming pools, as well as staying out of steamy, humid environments. Exposing your lashes to too much heat or moisture can cause them to lose their lift prematurely or even become damaged.
You should also be careful not to curl or style your lashes after the lift. While it's tempting to want to enhance the lift with mascara or an eyelash curler, doing so can damage the delicate lashes and undo the effects of the lift. Instead, embrace the natural beauty of your lifted lashes and enjoy the low-maintenance look that comes with it!
Get the Most Out of Your Lash Lift with Mascara Magic!
Alright ladies, let me tell you about my love affair with mascara and how it can take your lash lift from "good" to "gorgeous!" First off, choosing the right formula is key. You want something that's not too heavy or clumpy, but still gives you length and volume. I prefer a water-resistant formula, so it doesn't smear or flake throughout the day.
When it comes to applying mascara to your lifted lashes, less is more. You don't need to pile on layer after layer. Just a light coat or two will do the trick. I like to start at the base of my lashes and wiggle the wand to separate them and create an even coat. Then I gently sweep the wand up toward the tips.
If you want to take it to the next level, you can use a volumizing or lengthening primer before your mascara. This will give your lashes an extra boost and make them look even fuller and longer. Just make sure to let it dry completely before applying mascara.
One thing to keep in mind is to avoid using a lash curler on your lifted lashes. This can cause damage and undo the lift. Trust me, you won't need it with your lifted and mascara-enhanced lashes!
In conclusion, don't underestimate the power of mascara to enhance the results of your lash lift. Choose the right formula, apply it lightly and strategically, and maybe even add a primer for an extra pop. You'll be amazed at the difference it can make!
Get Ready for Gorgeous Lashes with These Tips!
Alright folks, we've covered a lot about lash lifts, from what they are to how to care for them. So, let's wrap things up with a few final tips on enhancing your results!
Firstly, let's talk about mascara. Once you've had a lash lift, you may feel like you don't need mascara anymore, but don't be fooled! You'll still want to use it to get the most out of your lifted lashes. Choose a mascara that complements your new, natural lash curl, such as a lengthening formula. And remember: less is more when it comes to mascara. Avoid clumps by gently wiggling the wand from the base of your lashes to the tips, and only applying one or two coats.
Secondly, be patient with your new lashes. It can be tempting to want to curl or style your lashes with a heated tool, but don't! This can damage your lashes and undo the effects of your lash lift. Instead, embrace your natural curl and opt for a lash serum to help nourish and strengthen your lashes over time.
And finally, if you want to keep your lashes looking their best, be sure to book your touch-up appointments as recommended by your technician. This will help you maintain your gorgeous lash lift for as long as possible!
So there you have it, folks! With these tips, you're sure to get the most out of your lash lift. If you're in the market for a lash lift, be sure to check out our friends over at Wink's Eyelash Boutique for a bold, beautiful look. Happy lashing!