Hey there! Let's talk about the art of Subtle Makeup
What is subtle makeup, you ask? It's the technique of enhancing your natural beauty without going overboard or looking like a completely different person. It's all about creating a soft, natural look that is perfect for everyday wear. Today, I'll be sharing some insider tips and tricks to help you achieve the perfect subtle makeup look.
Getting ready for a subtle makeup look doesn't have to be a hassle. In fact, it can be quite simple and straightforward. As someone who loves natural-looking makeup, I've picked up a few tips and tricks that have helped me achieve a subtle yet put-together look. Here's how I prepare for subtle makeup:
Preparing for Subtle Makeup
Before applying any makeup, it's crucial to start off with a clean, moisturized face. Cleansing your face helps get rid of any dirt and excess oil, while moisturizing helps keep your skin hydrated. I like to use a gentle cleanser followed by a lightweight moisturizer. This way, my skin feels clean and soft, and my makeup goes on smoothly.
Next, I prime my face. Priming creates a smooth base for your makeup and helps it last longer. I like to use a primer that blurs my pores and evens out my skin tone. A good primer can make a huge difference in the overall look and longevity of your makeup.
Overall, these two simple steps make a huge difference in how my makeup looks and feels. It's always worth taking a few extra minutes to properly prepare your skin for makeup application.
How I Apply Foundation for a Subtle Makeup Look
When it comes to applying foundation for a subtle makeup look, choosing the right shade is key. I always opt for a shade that matches my skin tone perfectly, or is just slightly lighter to give a brightening effect. I apply my foundation with a damp makeup sponge, starting from the center of my face and blending outwards. I make sure to focus on seamlessly blending the edges of my foundation, especially around my jawline and hairline.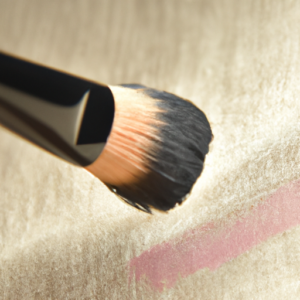 Another tip for achieving a subtle foundation application is to use a light hand and build up coverage as needed. I prefer to apply two thin layers of foundation, rather than one heavy layer. This helps to ensure that my natural skin texture and tone still show through, creating a more natural and subtle makeup look.
I also like to use a primer before applying foundation, as this helps to create a smooth base and prolongs the wear time of my foundation. I apply primer onto my cheeks, forehead, and chin, and blend it outwards with my fingers or a brush. This step is especially important for those with oily skin, as it helps to control excess oil and prevent foundation from slipping and sliding throughout the day.
Lastly, I always set my foundation with a light dusting of translucent powder to help it last even longer and prevent any unwanted shine. Overall, the key to achieving a subtle foundation application is to focus on blending, building up coverage as needed, and setting it with powder for extra longevity.
Blush it up: The art of applying blush in subtle makeup
Blush application is a crucial element to achieve a subtle makeup look. Here, I'll share my expert tips to perfect your blush application technique and create a flawless, natural flush.
One common mistake when choosing a blush shade is going for a color that is too bright or bold. The key to subtle makeup is to keep it simple with natural tones. Opt for shades that mimic the natural flush of your cheeks when you blush.
When applying blush, use a fluffy, angled brush to lightly dust the product onto the apples of your cheeks. Start towards the hairline and blend towards the center of your face, avoiding creating harsh lines. Using too much product or placing it too close to the nose can make your skin appear flushed or reddish, so be careful with the amount you use.
Another trick to achieve a subtle blush is to layer your products. After the initial application, use a clean brush to blend and soften the color, then add a touch more to build up the intensity gradually. This way, you can create a natural-looking flush without looking overdone.
If you accidentally apply too much blush, don't worry. Just use a clean blending brush to buff away the excess while keeping the natural, subtle effect.
For the finishing touch, set your makeup with a setting spray to ensure long-lasting wear. This not only helps your blush to last all day, but it also keeps your overall makeup looking fresh and dewy.
With these expert tips, you'll have people wondering if you're really wearing makeup at all.
Eyes That Speak While Remaining Subtle
Now, it's time to work on the eyes. I usually start by selecting neutral colors that match my skin tone and present a natural look without overpowering the overall makeup. As an expert, I recommend using a light taupe shade for the crease, and a slightly deeper brown for the outer corner. Blend these shades together to create definition without any harsh edges.
Next, I accent the inner corners of my eyes using a shimmery champagne shade, which adds subtle sparkle to my eyes. Finally, I apply a single coat of lengthening mascara to make my eyes look wider, brighter, and awake. Remember, in subtle makeup, less is more. One coat of mascara is enough to make your eyes stunningly subtle.
When I am satisfied with my eye makeup and let it dry for a few moments, I move forward to the next step and add natural-looking lipstick.
My Lip Makeup for a Subtle Look
Alright, ladies and gents, we're getting down to the nitty-gritty here – the lip makeup. I know it seems like a small step, but trust me, it can make or break the whole look. For a subtle makeup look, you'll want to keep things natural and understated.
First things first, you need to choose a color that complements your skin tone. Generally, you'll want to go for a natural hue that's not too bold or dark. If you're fair-skinned, a peachy or pink nude will work well. If you're medium-toned, a caramel or beige nude will be perfect. For darker skin tones, a warm, mocha-like shade will look stunning.
When it comes to applying lipstick, I like to use a lip brush to get precise edges and even coverage. Start by working from the center of your lips and moving outwards. Pro tip: Use a tissue to blot your lips after applying the first layer, and then add a second layer for added staying power.
Now, if you're feeling extra fancy, you can add some subtle shine by applying a lip gloss or a clear balm over your lipstick. Just make sure it's not too shiny or glittery, or you'll end up looking more disco ball than subtle and chic.
And there you have it, folks – my top tips for achieving the perfect lip makeup for a subtle look. Remember, less is more in this case, so keep things natural and effortless. Happy beautifying!
7. Finishing Touches. Voilà! We're Done!
Finally, we've come to the end of the makeup routine. Congratulations! It's been a long journey, but we're almost there. Now, let's put on the finishing touches.
One essential step in subtle makeup is to use setting spray. This spray will help your makeup last longer throughout the day, even if the weather isn't cooperating. When using setting sprays, it's essential not to overdo it, as it can make your face look too shiny or oily. A little goes a long way.
Another expert tip is to use a fan brush to dust away any excess powder from your face. This step makes sure that you won't have any spots that look too much color and keeps your skin looking natural.
Now that you've finished your subtle makeup, go out and enjoy the day! You'll look glowy, radiant, and stunning.
8. Conclusion: So, what's the subtle makeup secret?
After all the steps of preparing, choosing the right shades of foundation and blush, applying eyeshadow and mascara, and finishing with a setting spray, you are now ready to flaunt your subtle look. However, the subtle makeup secret is not just in the products or the techniques but in the confidence you exude when wearing it. Subtle makeup is not meant to hide flaws or change your facial features but is an enhancement of your natural beauty. When you feel confident and beautiful, that's the secret behind the subtle look.
Remember that less is more when it comes to subtle makeup. You don't need to pile on heavy layers of foundation or bronzer to achieve that subtle glow. Skin that looks and feels good should be your priority, and your foundation should be an extension of that. Don't forget to cleanse, moisturize, and prime your face before applying any products to ensure a smooth application.
When applying blush, choose a shade that compliments your skin tone. The goal is to create a natural-looking flush that mimics how your cheeks look when naturally blushed. The same goes for the lip color. It's always best to choose natural colors that blend with your natural lip color. Remember, making your lips too dark can make you look harsher than you intend.
For subtle eye makeup, keep the colors neutral, avoid any harsh lines or dramatic winged liner. You can add a little drama with mascara by using an eyelash curler before applying mascara, and then adding a few coats to your lashes for a natural-looking pop.
There is no one way to do makeup, but the goal in a subtle look is to enhance your natural beauty and feel confident while doing it. Don't forget to experiment, find what works for you, and stay true to your style.
FAQs on Subtle Makeup
How can I make my makeup less noticeable?
Well, to be honest, I am no makeup expert, but I have learned some tips and tricks along the way. First and foremost, less is always more when it comes to makeup. I like to go for a natural look, so I keep it simple. To make my makeup look subtle, I opt for a light coverage foundation that matches my skin tone, and blend it into my skin using a beauty sponge. This helps to create a natural, flawless finish.Next, I focus on my eyes. Instead of bold, statement eyeshadows, I go for natural shades that complement my skin tone. You could try a neutral brown or taupe shade on your lids, and then add a light highlighter shade on your brow bone. This will create depth in your eyes without attracting too much attention to them.Another important tip is to keep your lips simple. Sometimes, a bold lipstick can make your makeup look too bold overall. For a natural look, try a tinted lip balm or a nude lipstick that complements your skin tone. Lastly, you could try using natural or cream-based products instead of powder-based makeup. This gives a more subtle finish and is less likely to look heavy or cakey. Overall, making your makeup look subtle is all about using the right shades, blending well, and focusing on the natural beauty of your features. With these tips, you can achieve a fresh, natural look that enhances your beauty without overwhelming it.
What is meant by subtle makeup?
Well, to be honest with you, making your makeup look subtle is all about technique. To start off, I always recommend applying a light layer of foundation, as opposed to a heavy one, so that your skin can still breathe and look natural. Another trick I like to use is applying blush by tapping it onto my cheeks, rather than rubbing it in. This gives a more natural and subtle look. As for eye makeup, I like to use neutral colors and apply them with a light hand. And don't forget about mascara – just a touch can make your eyes pop without looking overdone. Lastly, for lips, try a nude lipstick or gloss for a subtle look. Remember, less is more when it comes to makeup!
How do I make my makeup look neat?
Well, to be honest with you, making your makeup look subtle can be a little challenging at first, but it's totally achievable. Here are some tips that worked out great for me: Firstly, you should always apply a thin coat of moisturizer or primer before putting on your makeup. This will help the makeup adhere to your skin and make it look smoother. Secondly, use a light hand when applying foundation, concealer, blush, and eyeshadows. Build up the intensity gradually and blend everything well, to avoid any harsh lines or visible streaks. Lastly, don't forget to finish off with a setting spray or powder to lock everything in place and give your makeup a natural, polished look.Now, when it comes to making your makeup look neat, there are a few things you can do to ensure your look stays on point all day. Firstly, invest in good quality brushes and sponges. These will help you apply and blend your makeup effectively. Secondly, clean your brushes and tools regularly to prevent any bacteria buildup. Thirdly, apply your makeup in good lighting and use a magnifying mirror, so you can see any imperfections and blend everything evenly. Lastly, always carry some blotting paper or a compact powder in your bag to touch up your makeup throughout the day.I hope these tips help you achieve the subtle and neat makeup look you desire. Good luck!