Blush, The Secret to Radiant Skin
Oh, hello there! Are you ready to discover the secret to radiant skin? Let me introduce you to blush! Blush is a type of makeup that is applied to the cheeks to add a hint of color and glow to your complexion. It's the perfect finishing touch to any look, and it's an essential part of my makeup routine.If you're new to blush, don't worry; I've got you covered. In this blog post, we'll go over everything you need to know about blush, from the different types to selecting the perfect shade for your skin tone and desired look. But first, let me share a helpful link to a post that will teach you all you need to know about achieving flawless makeup: Winks Eyelash Boutique. Trust me; this post is a game-changer. Now, let's get into the nitty-gritty of blush, shall we?
Types of Blush: Powder or Cream, Which is Best for You?
Blush comes in two main types: powder and cream. Both can give your cheeks a beautiful flush of color, but choosing the right one for your skin type and desired look is key.
Powder blush is a classic option and is great for those with oily skin or who want a more subtle look. It comes in a range of formulas, from matte to shimmery, and can be applied with a brush for a natural finish.
Cream blush, on the other hand, is perfect for those with dry or mature skin, or those who want a more dewy and luminous finish. It can be applied with a brush or fingers and gives a more pigmented look than powder blush.
When choosing between powder or cream blush, consider your skin type and desired look. For a natural, subtle look, go for a powder blush. For a more intense and hydrating finish, try a cream blush.
Selecting a Shade
Hey there, choosing the right shade of blush can be tricky, and I'm here to spill some secrets on how to get it right!
First of all, you need to know your skin tone. If you have fair skin, you should look for blushes in light pink shades that will add a natural flush to your cheeks. If you have medium skin, coral-colored blushes are perfect for you since they complement your skin tone. For darker skin tones, go for a deep berry or bronze shade to bring out your cheekbones.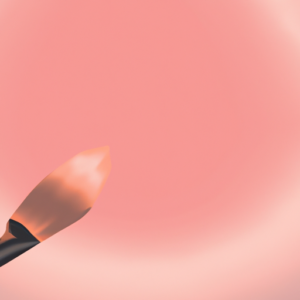 Another thing to consider is the desired look. If you want a more natural look, go for a shade that is closer to your natural flush. If you're looking for a more dramatic look, like for a night out, then you can choose a brighter and bolder shade that will make you stand out.
Don't be afraid to swatch different shades on your hand or cheek to see what suits your skin tone and desired look. Lighting can also have an impact on how the shade appears on your skin so ensure to check it in different lighting.
Lastly, remember to go easy with the application if you're unsure of how much to apply. It's always easier to build up the color rather than try to take it off!
Applying Blush Like a Pro: Tips and Tricks
When it comes to blush, the application technique can make all the difference. Here are some tips and tricks to ensure that your blush application is flawless.
Brushes
When applying powder blush, it's important to use a brush that is specifically designed for blush. A fluffy angled brush is perfect for applying blush to the apples of your cheeks, while a denser brush can be used for more precise application. Be sure to tap off any excess powder before applying to avoid a heavy-handed look.
For cream blush, use your fingers or a stippling brush to blend the product onto your skin. Start with a small amount of product and build up to your desired intensity. Blending is key to achieving a natural-looking flush.
Sponge
For those who prefer a sponge to apply makeup, it's best to use a damp sponge for cream blush. Simply dab the sponge into the product and gently pat it onto your cheeks and blend well. Avoid dragging the sponge across your skin to prevent streaks.
Makeup Tip
If you're in a rush or don't have any brushes or sponges on hand, you can also use your fingers to apply blush. Simply dot the product onto the apples of your cheeks and blend with your fingers, sweeping upwards towards your temples.
Remember to always blend well and start with a small amount of product! Applying too much blush can be difficult to fix, so it's important to start with a light hand and build up as needed. With these application techniques, you'll be able to achieve a perfect flush every time.
My Expert Makeup Tip: Less is More with Blush
When it comes to applying blush, my top tip is to remember that less is more. You don't want to look like a clown with bright pink cheeks! Instead, start with a small amount of blush and build up if needed.
To ensure you don't apply too much blush, tap off any excess product from your brush before applying it to your cheeks. This will prevent any harsh, unnatural lines on your face.
Another tip I have is to blend, blend, blend! Blending is key when it comes to achieving a natural and seamless flush on your cheeks. Use a fluffy brush to blend out any harsh edges and create a natural gradient from your cheekbone to the apples of your cheeks.
Lastly, if you're using a powder blush and find that it's looking too intense, use a light hand with a clean brush to blend out any excess pigment. Or, if you're using a cream blush, try using a damp sponge to blend out the product for a more natural look.
Remember, the goal with blush is to enhance your natural beauty, not to hide it. So, take it slow, blend well, and don't be afraid to experiment with different shades and techniques to find what works best for you.
Revel in Your Blushing Beauty
Well, you've made it! You now know all there is to know about blush: what types there are, how to select a shade based on skin tone and desired look, and how to apply it using brushes or a sponge.
With this knowledge, you can confidently move forward in creating a look that perfectly complements your natural beauty and confidence.
Remember, the key to using blush correctly is finding a shade that looks natural and complements your skin's undertones. It might take a bit of experimentation to find your perfect color, but that's okay! Blush is a lot of fun to play with and can really make a look pop.
So go forth and apply your blushing beauty! Don't be afraid to try something new or step out of your comfort zone. You never know what stunning results you might achieve. And if all else fails, just remember what Coco Chanel once said, "A woman who doesn't wear perfume has no future."