Introduction
I'm talkin' 'bout drama. When you want to up the ante on your look, one way to get that 'wow' factor is by addin' some bottom lashes. Ain't nothin' quite like it—bottom lashes really make a statement and take your makeup to the next level. It could be subtle, or it could be bold, either way it's gonna turn heads.
What is dramatic look? You know what I'm talking about. Think long, fluttery lashes and unbeatable volume, guaranteed to draw the eye down. That's the look we're goin' for here.
It ain't just style though—bottom lashes can have practical benefits, too. For starters, they open up the eyes, and they work with all kinds of shapes and sizes. And if you got hooded lids, adding extra depth with lower lashes can help to define the eyes in a natural-looking way.
What You Need
If you're gonna get that dramatic look, you're gonna need some false eyelashes and glue! I'm talkin' about the mink ones too; regular ol' synthetic lashes won't cut it. And don't forget to bring a good eye makeup base, 'cuz you'll be rockin' the dark and smoky eyes playin' up them bottom lashes.
Preparation: Choosing the Right False Lashes for a Dramatic Look
It's time to make sure you choose the right false eyelashes. After all, these will be what brings your dramatic look to life. Let me give you my top tips for picking out the perfect pair.
For starters, it's important to select lashes that are long and full. It might seem like a good idea to go for wispy, natural-looking falsies if you're trying to achieve a dramatic eye look – but they don't hold a candle to thicker, darker sets. So, go big or go home!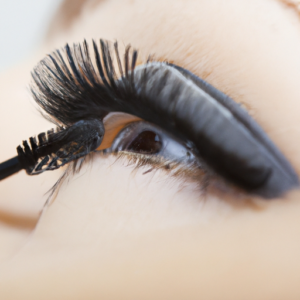 You'll also want to ensure your falsies sit flat against the lash line. If the strip is too stiff, it won't hug your lash line properly and your look won't be as seamless as you'd like. Look for lashes that have more bend to them; they should lay flush against the eye once applied.
Lastly, be mindful of the lashes' length and thickness. If you opt for a lengthy set, make sure it doesn't extend too far beyond your own natural lashes. Additionally, check that the band is wide enough to cover the entire eye area. If it's too narrow, you may struggle to get an even application.
Application
Now it's time to get down to business: applying the bottom lashes. Now, I'm no makeup artist, but I've got a few tricks up my sleeve that'll have you looking effortlessly fabulous. First things first: pick out the right set of false lashes for the look you're going for – whether that be bold and long or subtle and short. Don't forget to grab some good quality glue from your local beauty supply store too!
When it comes to actually putting them on, it's important to take your time -– there's no rush! Start off by curling your upper and lower lashes with an eyelash curler, just so they stay out of the way. Then, apply a thin line of glue along the lash band and wait a couple seconds for it to become tacky. Next, gently press the false lashes onto the outer corner of your lower lash line and hold for a few seconds. When everything is all set, carefully use an eye pencil to blend in the lash band.
And voilà! Achieving a dramatic look with bottom lashes couldn't be easier. All it takes is a little patience, practice and precision – and of course, finding the right style of false lashes to rock!
Finishing Touches for a Dramatic Look with Bottom Lashes
When you're done applying your bottom lashes, it's time to make sure they look extra dramatic. Here are some tips that will help you get the ultimate show-stopping look:
First off, don't forget to apply mascara. This is key in helping both the false and natural lashes blend together. Swipe a few coats of mascara on both the top and bottom lashes, as this will help build up volume and make your eyes appear more defined.
Also, consider adding a bit of glitter or shimmery shadow around your lids. It'll help give your eyes some added sparkle, bringing the entire look together! If you want to go even further, try throwing on a pair of colored contacts – that way you can truly change up your look.
Finally, don't be afraid to experiment a little bit. Try out different shades of false lashes and different makeup to find what looks best on your eye shape and skin tone. Who knows, you might uncover your own unique style and create one heck of a dramatic look!
In Conclusion: Get That Dramatic Look with Bottom Lashes
Folks, putting on bottom lashes is a great way to get an intense look that stands out from the crowd. Whether you're going for a date night or a fun night out with friends, these little lashes will do wonders for your look. After you've chosen the perfect pair of false eyelashes and applied them correctly, don't forget the finishing touches. Add some additional eye makeup for more intensity and definition – a smoky eye or glitter liner can really make those lashes POP.
The key to getting that dramatic look is all in the details. Take your time, be careful, and trust your instincts – you'll be sure to pull it off!