Mascara is one of the easiest and most popular ways to take your look from drab to fab. We all know that it takes a special kind of brush to curl your lashes and achieve those luscious, voluminous curls – enter mascara for curl! It's specifically designed with the perfect formula and brush combination to make those pinned back doll-like eyelashes reach their full potential.
Using the right mascara for curl can bring about some serious beauty benefits – think thicker, more defined, elongated, and totally pin-up worthy lashes. But how do you go about choosing the best mascara for your needs? Here's what you need to know.
Factors to Consider when Choosing the Right Mascara for Curl
So you've decided to take the plunge and curl your lashes—congrats! Before you grab your mascara wand, though, there are a few things to keep in mind. You see, not all mascaras are created equal: some are made for curling, others for volumizing, and some are simply just okay. To make sure you're getting a mascara that's just right for the job, here's what you need to look out for…
Consistency: First off, and most importantly, check the consistency of your mascara. A great curling mascara should be lightweight and watery—not too thick or clumpy. That way, it won't weigh down your lashes and will ensure they stay curled all day long.
Waterproof vs Non-Waterproof: While waterproof formulas tend to provide more hold and curl, non-waterproof mascaras can be easier to remove and less likely to irritate sensitive eyes. Take into account your lifestyle and personal preference when picking the right one for you.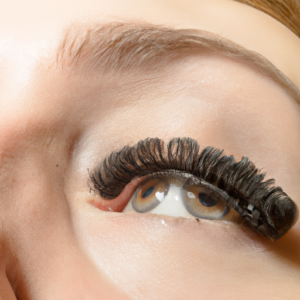 Brush Type: Another thing to consider is the type of brush. A curved wand can help lift and define your lashes, while a straight one can help reach all the little hairs at the corners of your eyes. Play around with different styles to see what works best for your unique eye shape.
Additives: Finally, check the ingredient list for any extras. Many mascaras contain waxes, oils, and other nourishing ingredients to prevent dryness and flaking. They can also include fiber additives to give the illusion of longer, thicker lashes—just the thing for the perfect voluminous curl.
Review of the Best Curling Mascaras
When it comes to delivering a beautifying punch, nothing beats a good curling mascara! If you're looking for that va-va-voom volume and curl—you want to whip out your wallet, 'cause these babies aren't cheap. To make sure you get the best performance that won't fall short of expectations, check out these three standout contenders.
Let's start with Maybelline Great Lash Curved Brush Mascara. It features an innovative curved brush, which gives you extra angle precision so you can target even the hardest to reach areas. The brush is quite densely packed, too, making it easy to apply multiple coats in less time—no fussing required. Plus, the formula is water-resistant (thanks to beeswax)—so you won't have to worry about smudging. This one really helps prevent clumping, as long as you don't go too heavy on the application.
Next up is L'Oréal Voluminous Lash Paradise Mascara. This one is all about maximum volume and length! It has a unique feathery brush design, so you can build upon layers for an extra touch of impact. It's slightly creamier than a traditional curling mascara, which makes it easier to apply. And it comes in several different shades, from classic blacks to more colorful hues like purple and blue.
Last but not least there's Lancôme Monsieur Big Mascara. This one's all about volume, volume, volume! It utilizes a thick bristle brush that easily lifts and separates lashes for a gorgeous clump-free effect. Another cool thing about this curling mascara is that it's designed to increase in length and thickness throughout the day, so you'll be rocking those eye-catching looks until the late hours. Ya gotta love it.
Tips and Tricks for Applying Curling Mascara
Applying mascara can be a difficult task, let alone when you're trying to get that extra curl. But if you have the right tools, products and know-how, those perfect lashes can be yours in no time! Here are my top tips and tricks to help you get your lashes curled up just right:
First things first—you need the right consistency when it comes to your mascara. Too thin and your lashes won't hold their shape; too thick and they can become clumpy and heavy. Look for something in between and you're golden! Next, decide if you want waterproof or non-waterproof. Waterproof is great for hot and humid climates, but for everyday use quick drying mascaras are pretty handy.
The type of brush is also important when curling your lashes. You don't want one that's too big and bulky or it can cause clumping. Instead, opt for smaller brushes with wispy bristles that help separate each lash as you apply. Lastly, go for mascaras with conditioning additives like biotin so your lashes look and feel smooth and healthy.
Finally, here's how to get the most out of your curling mascara. Start by using an eyelash curler before applying your mascara – this will give your lashes an even more dramatic curl. Then, slowly move the wand up your lashes starting from the roots, making sure to coat each lash evenly. A tip I recommend? Apply your mascara in thin layers instead of going overboard all at once. This will prevent clumps and create a more natural look.
You don't have to be a makeup artist to achieve gorgeous, luscious lashes – with these tips and tricks, you'll be on your way to getting those gorgeous Hollywood curls in no time! So what are you waiting for? Let's get curling!
Conclusion
It's safe to say that curling mascara offers many great benefits. With the right type of mascara and application techniques, you can easily achieve beautiful, long-lash looks. To get the most bang for your buck, it's important to consider the consistency, waterproof qualities, brush type, and additives when choosing a mascara. We've also reviewed some of the best curling mascaras on the market, including Maybelline Great Lash Curved Brush Mascara, L'Oréal Voluminous Lash Paradise Mascara, and Lancôme Monsieur Big Mascara. Lastly, it's essential to apply the mascara in thin layers, starting from the root, and using an eyelash curler before applying the product.
Ultimately, finding the perfect mascara for curling lashes isn't rocket science. All it takes is researching the right product, and understanding a few tips & tricks. So go ahead, flutter those lashes – you'll be feeling like a million bucks in no time!
FAQs About Mascara Curl
How do you know what mascara is right for you?
When it comes to finding the right mascara for your lashes, the first question you need to ask yourself is: what type of curl do I want? Do I want my eyelashes to have a light but curvaceous lift, or do I want something that's going to bring out a dramatic curl? This will help you determine which type of mascara you should go for.
Once you've figured out the type of curl that you want, the next step is to determine what formula you'd prefer. Typically, there are three main mascara formulas to choose from: volumizing, lengthening, and curling. Volumizing formulas will deliver fullness to your lashes, lengthening formulas will help to add length to your lashes, and curling formulas will give your lashes that extra lift.
Finally, it's important to consider the type of brush that you'll be using. Most mascaras come with a traditional brush or a wand, but there are other options such as a curved brush or a comb-shaped brush. These different types of brushes can all be used to create various levels of curl, so choosing the right one for your desired result is essential.
In conclusion, it's important to determine what type of curl you want and the mascara formula you prefer before you select your mascara. And don't forget to consider the type of brush you'll be using—it can make a big difference in the final result!
Does waterproof mascara hold a curl better than regular mascara?
When it comes to keeping your lashes curled, waterproof mascara is definitely the way to go. I'm sure you've heard the horror stories of regular mascara melting away your curled lashes, leaving them droopy and lifeless. But with waterproof mascara, you're sure to get that long-lasting curl that you're looking for.
Not all waterproof mascaras are created equal, though. Make sure you go for one specifically designed to hold curl, like Maybelline New York Volum' Express the Falsies Waterproof Mascara. This product contains a unique blend of waxes and polymers that really locks in your curl, giving you that bold, eye-catching look.
Another important factor to consider is the wand size. Opt for one that's more slender and has fewer bristles. This will help to separate each lash and make sure your curl is evenly distributed, rather than just clumping your lashes together.
Finally, keep in mind that waterproof mascara can sometimes be a little tricky to remove. You might want to invest in a heavy-duty makeup remover or oil-based cleanser to ensure that you get all of it off when you take off your makeup.
Does curling mascara actually work?
I'm gonna start off by telling you straight: yes, curling mascara does work. It's a great way to create some awesome, luscious lashes that help to take your look up a notch. But, there's a catch – you have to choose the right type of mascara for the job.
When selecting mascara, the key is to find a formula that's specifically designed to curl and hold. Most curl-enhancing mascaras have a combination of waxes, oils, and polymers that help to hold the curl throughout the day. And if you want to take it a step further, look for mascaras that also contain conditioning agents, like panthenol and glycerin, to nourish your lashes and keep them looking their best.
Another thing to keep in mind is the size of the wand. If you want to really get in there and capture each lash, opt for a brush with a curved shape. This will help to lift and coat them from root to tip, creating a stunning curl that'll last. And if you're looking for a super dramatic, voluminous effect, try a brush with larger bristles.
Finally, a good formula also comes down to what you're looking for in terms of texture and finish. Long-wearing mascaras are great for those days when you don't want to worry about touch-ups. But, if you like a softer, more natural curl, choose a formula that's less stiff and one that won't flake off. Either way, you'll be sure to get the lush, fluttery lashes of your dreams!