Hey ya'll! I'm here to introduce you to the magical world of mascara, and what it can do for ya. You may not know it, but mascara can be your secret weapon when it comes to giving yourself a makeover. Whether you're trying to achieve a more dramatic look or just bring out your natural beauty, the right mascara can go a long way.
Mascara is a cosmetic used to darken, lengthen, thicken, and/or define your eyelashes. It's super easy to apply, and it can take any look from dull to dazzling in seconds. With just a few swipes of your wand, you can have that eye-catching statement look you've been searching for.
But finding the right kind of mascara can be tough—there are oodles of different formulas and brushes on the market, so it pays to know what type of lashes you have before shopping. That's why I'm gonna help you identify your lash type and find the perfect mascara match.
Identifying Your Lash Type
Part of getting the most out of your lashes is figuring out exactly which type you have. Knowing this can help you select the right mascara formula and wand to flatter 'em. Here are some tips on how to find out.
Short Lashes: If your eyes feature stubby, fair-length lashes, then a volumizing mascara is your best bet. This can help you achieve the maximum effect with your peepers without it looking too over-the-top.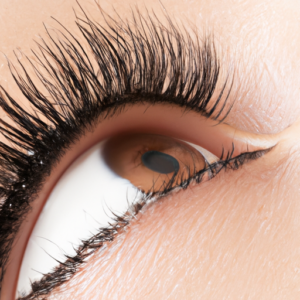 Medium Lashes: If you've got enough length, but want to make 'em thicker, then you're in luck! A fiber-based mascara will do the trick – no need for anything else. With each coat, you'll add texture, definition and sheer volume to your lash line.
Long Lashes: If your lashes are long and luscious, then why not experiment with a lengthening product? This can add further definition and drama to your fringe. Just be careful not to go overboard with the application.
Curly Lashes: If you've got a natural curl to your lashes, then waterproof mascara is the way forward. It's essential these days in keeping your curls in place and avoiding any panda-like smudging or sagging.
Straight Lashes: If you have straight lashes that don't hold a curl then there's no better solution than a volumizing mascara. These mascaras can help to provide an extra oomph – so your eyelashes look wider, longer and fuller.
Mascara Formulas
When it comes to mascara, there are a variety of different formulas you can try.
First, let's talk waterproof mascaras. If you're looking for an ultra-long lasting formula, this is the right choice for you. Waterproof mascaras have stronger, more flexible fibers that resist smudging and flaking – perfect for those hot and humid summer days. Just make sure you use a gentle makeup remover to take it off at night!
Next, we've got fiber mascaras. These use tiny plant based or synthetic fibers to help enhance your eyelashes. The added length gives you a super-defined look, while the extra volume helps create the illusion of thicker, fuller lashes. And don't worry – the fibers won't irritate your eyes.
If volumizing is more your style, volumizing mascaras are great for giving your eyes a dramatic boost. These formulas are usually packed with lots of pigments and waxes that help provide full coverage and thickness. Plus, you don't need to sacrifice on length – volumizing mascaras often come in lengthening formulas too.
And lastly for length, there are lengthening mascaras. These feature special ingredients like vitamin E, jojoba oil and natural waxes that help extend each lash from root to tip. You'll get the definition and separation that you want, without clumping or flaking.
Finding the Right Mascara Brush
When it comes to mascara, finding the right tool to do the job is half the battle. What you want is a wand that'll give you the results you need. Don't settle for just any brush; make sure it's one with plastic bristles, rubber bristles, or a comb-like wand. There are tons of options out there, so pick one that works best with your lash type.
Start by assessing the length and texture of your lashes. Are they long and curly, or short and straight? By understanding what kind of brush works with each, you'll be able to determine which will give you the most impactful look. For example, if your lashes are on the longer side, opt for a wand with long rubber bristles – this will help to separate and define each individual lash. If your lashes are straight, go for a wand with plastic bristles – the dense bristles will help to give you volume and fullness.
Note that not all brushes are created equal. You'll find that larger wands can create a dramatic, voluminous look while smaller ones provide an understated finish. Ultimately, it all comes down to personal preference. Take the time to experiment with different formulas and brush sizes – that way you're guaranteed to find one that works for you.
Conclusion
It's been real – now that you know the basics of finding the perfect mascara for your lash type, it's time to get the party started. Just remember, never forget the little things when applying your mascara, like curling your lashes before to give them a boost and brushing out any clumps. Oh, and don't be afraid to experiment with different types and colors to get the look you're after – you deserve it! Now get out there and make those lashes shine!
Selecting Mascara
How do I know what color mascara to use?
Well, the first thing to consider when finding the perfect mascara for your eyelashes is the color. You want something that complements your eye color while also giving you the look you're going for. If you have dark brown or black lashes, you'll want a black mascara. If your lashes are lighter, you may want to go for something in brown or a thickening black. Experiment with different colors to see what works best for you.
When it comes to formula, you'll want to look for something that's light, water-resistant, and long-lasting. Look for mascaras with ingredients like Vitamin E to help strengthen and fortify your lashes. You may also want to look for something with a thicker brush, as this will help coat your lashes better. No matter what formula you choose, make sure it's easy to remove at the end of the day, so you don't tug at your delicate eyelash hairs.
Finally, when on the hunt for the right mascara, remember to take your time. Try out a few different options to find the one that works best for you and your unique eye shape. Don't forget to ask your friends, family, or makeup artist for their advice, too!
How should eyelashes look with mascara?
When it comes to finding the right mascara for your eyelashes, it's all about understanding what look you're going for. Are you looking for a bold, lengthened look, or just a light, natural enhancement? A good mascara can do both! It all comes down to the formula and applicator. Long-wearing formulas will help give you length and volume, while lightweight formulas will give a more subtle look.
I recommend focusing on the wand and brush design when you shop for a mascara. Different wand shapes and sizes can change the way it looks on your lashes. For example, a curved wand with fewer bristles is great for adding length and separation, while tapered wands with dense bristles will help create a full and voluminous look. Additionally, look for mascaras with fibres or conditioning agents like Vitamin E and Argan oil which will help condition your lashes and make them look healthier.
When you apply your mascara, put it on in thin layers and always start at the base of your lashes and move towards the tips. Wiggle the wand a little to make sure you coat every single lash. Don't forget to use an eyelash curler before you apply! It will help boost the volume of your lashes and give them an extra bit of lift.
Finding the perfect mascara for your eyelashes is all about trial and error. Play around with different formulas and wands to create the exact look you want. Remember, a little bit of mascara goes a long way so don't cake it on!
How do I choose mascara for straight eyelashes?
Finding the right mascara to suit your straight lashes isn't always easy. But I've got a few tips that can help you find the one that's perfect for you. First and foremost, it's important to look for a lash-defining mascara that's specifically designed for straight lashes, as this will give you maximum curl and volume. Look for a formula that contains waxes such as carnauba and beeswax that will help add volume and lift. Also, be sure to look for a product with a wand that's curved, as this will help make the application process easier. Finally, don't be afraid to experiment! Different mascaras have different effects on different types of lashes, so it might take a bit of trial and error to find the one that works best for you.