Ah, short straight eyelashes. Ain't they a bummer? Don't worry, I'm here to provide you with all the tricks to make them look longer and fuller in no time. Let me break it down for you: short straight eyelashes are lashes that don't seem to have much length or volume, and when you look at them, they appear quite straight — ain't no curliness in sight!
But don't be disheartened – with just a few simple steps, we'll have your short and straight lashes looking long enough to rival Rapunzel's! This blog post will take you through some simple tips and tricks on how to make them look longer, as well as some other ways you can boost the appearance of your lashes without having to resort to false eyelashes.
Tips for Making Short, Straight Eyelashes Look Longer
Ah, short, straight eyelashes. They get the job done, but let's be real—they don't do much to boost your glam factor. If you want long, voluminous lashes that really make your eyes pop, try out these tips!
Curl 'em: Curling your lashes is a great way to make them look longer. It gives definition and helps your lashes look lifted, which makes them appear longer. Just be careful not to over-curl or tug on your lashes too hard—your eye health always comes first.
Swipe it on: Mascara is like an instantly-longer lash miracle worker. A few coats can make your short lashes look longer and fuller. Try a lengthening mascara formula with tiny fibers that "grab" onto your lashes, making them look bigger and better. Check out the reviews—you want a mascara that won't clump or flake off.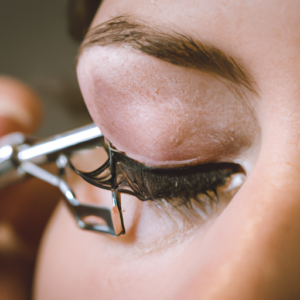 Comb it out: An eyelash comb is like a little brush for your lashes—not a brush you'd put in your hair though. It separates and defines your individual lashes, making them look visibly longer and healthier. Eye makeup removers are also key for getting rid of any gunky residue that might be sticking to your eyelashes.
Grow 'em: If you want long-term results, then look into products like an eyelash serum or growth enhancer. Used daily, these products can help promote healthy lash growth and strengthen your existing lashes, leading to longer, stronger lashes.
Other Ways to Make Your Lashes Look Longer
If you want your short, straight eyelashes to really stand out, then it's time to get creative! Even if your lashes are naturally short and straight, there are plenty of ways to make them look longer. Here are a few tips for adding length and definition to your peepers.
Fake 'em 'til you make 'em. A quick way to get a dramatic look is to try fake eyelashes. Whether you choose individual or strip falsies, they can give your eyes a sexy, sultry vibe in mere minutes. Just be sure to apply them as close to your real lashes as possible. If done right, no one will even know they're not the real deal!
Makeup tricks galore. Put your eye makeup skills to the test with some clever techniques. Try smudging a bit of eyeshadow on your lash line to create the illusion of thicker lashes. You can also add a few thin strips of eyeliner on either side of your lashes to help open up your eyes. Combined with mascara, this effect can make your lashes look more voluminous and prominent.
Go big or go home. If you want a more permanent solution, then eyelash extensions might be the answer. Extensions are tiny strands of synthetic material that are attached to each real lash to create a fuller look. Since these are semi-permanent, you don't have to worry about reapplying or removing them every day—perfect for days when you don't have time for a full face beat!
Wrapping Up Short, Straight Eyelashes
Well folks, that's about it for finding ways to make short, straight eyelashes look longer. We've gone through all the tips: curling them, buffing them up with mascara, using a comb, and even trying out some growth enhancers or lash serums. You can also try fake lashes, makeup techniques, and lash extensions if you're looking for a big boost.
You don't have to be cursed with short, straight eyelashes forever. With just a few simple steps, you can give your lashes some impressive length. Whether you're after a more natural look or you want to dial it up a notch with bold, flashy eyes, there's something in this blog post for everyone. So get cracking, and show off those beautiful, long eyelashes!
FAQs About Longer Eyelashes
Are short eyelashes attractive?
I'm no expert, but I can tell you that short lashes are definitely attractive! Sure, long luxurious lashes are the way to go if you're looking for dramatic, high-impact results, but that doesn't mean short lashes can't also achieve a stunning look. In fact, with a few simple tricks, you can make short lashes look longer and fuller – in no time flat.
First of all, make sure you're using a mascara that's specifically formulated for length and volume. This will make all the difference in helping you get the long, luscious look you want. It's also a good idea to curl your lashes before applying mascara. This not only makes lashes look longer, but it also helps to maximize the effects of mascara.
Next, layer on multiple coats of mascara. The more coats you apply, the longer your lashes will look. Concentrate on the tip of your lashes for maximum length. If you're looking for added fullness, you can also use an eyelash primer to help your mascara glide on evenly and provide a base for the product.
Finally, you can use a small brush to comb through your lashes. This will separate and define each lash, giving you a bigger, bolder look. Don't be afraid to play around with different types of mascara and eyelash products to figure out what works best for you. Once you've found the right combination, you'll be able to flaunt lashes that will turn heads every time.
How can I make my eyelashes longer?
Well, I can't give you a miracle solution, but I can offer some expert advice that might help you achieve your desired look. First of all, consider using an eyelash curler, as this can help add length to your lashes. Additionally, using a lash serum formulated with peptides and plant extracts can help condition your lashes and make them look healthier, and potentially longer over time. You can also try using a waterproof mascara that contains lengthening fibres to help make your lashes look fuller and longer. And finally, you can try false eyelashes or eyelash extensions if you want a more dramatic look. With a bit of effort and some tried-and-true strategies, you can have lush, long eyelashes in no time. So, take it from me – you've got this!
How do I make my eyelashes longer naturally?
Well, I'm here to tell you it's possible to make your straight, short eyelashes look longer without having to invest in expensive lash extensions. To begin, make sure you're using a volumizing mascara, as this can help create the illusion of length. If you want to really pump up the volume, look for a mascara with a curved brush – it helps create the separation and length. But don't over-apply – keep it light to avoid clumping.
Also, you can try using an eyelash curler – this can help create some oomph and can open up your eye area. Lastly, you can use an eyelash growth serum, which helps to strengthen and lengthen your lashes. Applying an eyelash serum every day for at least a month can help you gradually achieve longer lashes.
So there you have it – with a few simple steps, you can make your short, straight eyelashes look longer. No need to break the bank – keep it simple!