What is natural skin make up? It's when you use cosmetics to enhance your skin in a way that looks as natural and close to its own colour as possible. In this blog post, we'll be going through the basics of how to achieve a natural look with makeup, from prepping your skin to the finishing touches. All the tips here are suitable for beginners, so no matter what your level of experience is, you should be able to find something useful.
When starting out with natural skin makeup, it's really important to get the basics right. We're talking cleansing, moisturizing, and properly prepping your skin before applying any type of makeup. This will help ensure that your makeup looks as natural and natural-looking as possible.
From there, it's time to start applying makeup! We'll go through everything from choosing the right foundation shade, different types of concealers, setting powder, blush and bronzer, highlighter and contour, eyebrow products, mascara, and lipstick — all of which can help you achieve a natural look with makeup.
So let's dive in and learn all about natural skin makeup!
Preparation
It's no secret that proper skin preparation is key to achieving natural-looking makeup. Now, if you've never done this before, it may seem like a daunting task, but trust me – it's not! With a few quick steps and the right products, you can easily prep your skin for makeup like a pro.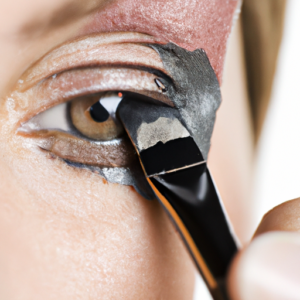 The first step is cleansing and moisturizing. Cleansing helps get rid of oils, dirt and other impurities that can make your complexion look dull. Depending on your skin type, you should choose a cleanser that's tailored to your needs, and then follow up with a lightweight moisturizer. This will keep your skin hydrated and smooth, giving you a perfect canvas to work on.
Once you're done moisturizing, the next step is applying a primer. Primers are designed to give your skin an extra layer of protection that helps keep your makeup on for longer. Choose one depending on your skin type – whether it's oily or dry – to ensure it works its magic. Once you apply the primer, let it sit for a couple of minutes so it can set properly.
Foundation
When it comes to natural skin makeup, foundation is key! It has the power to make or break your look, so you have to get it right. First things first – picking the perfect shade. Now, this can be tricky, but it's important to take your time and find the one that matches your complexion.
Once you've nailed the color, you'll need to decide which type of foundation to go for. Do you want a liquid for a light, airy finish? Or are you more into the full coverage of a cream foundation? Whichever you choose, you need to make sure it actually fits your skin and its needs.
Now you're ready to apply your base and here's where it gets interesting: there are tons of techniques for getting the perfect natural-looking skin. Whether you opt for stippling, buffing or patting, the key is taking your time and building up the layers. Oh and don't forget to blend inwards!
One last tip: carry some blotting paper around with you throughout the day. As natural skin makeup can tend to be oily, it'll help to keep excess shine at bay so you can rock the fresh-faced look all day long.
Concealer
Everyone needs a good concealer. I'm here to tell you what you need know to pick the right one and use it like a pro. For starters, find an exact match for your skin tone – no easy task! You can check out all the different types of concealers in store, from creamy formulas to liquid, stick and even gel formulations. Once you've found a shade that works for you, it's time for application.
Try using a beauty blender or small brush to blend the product on top of your foundation. Set with some translucent powder and voila, discoloration and redness gone! Concealers are all about having fun and experimenting. Experimenting with shades and textures until you find your perfect combination, that's the key. Make sure you blend outwards and tap gently, rather than rub the product into your skin.
Another great trick is layering – use a yellow-based concealer under your eyes and then a pink-based one over top. It's a great way to get an even finish and cover up any stubborn shadows or blemishes. Don't forget to set it with a bit of powder or a setting spray, so it stays put all day.
Setting Powder: Get That Natural Skin Makeup Glow
When it comes to getting that natural skin makeup glow, setting powder is a must! Whether you're opting for full glam or going for a more subtle look, a good quality setting powder will help keep everything in place. Not sure where to get started? Let's dive in and I'll show you how to pick the right type and apply it like a pro.
First things first: choosing the perfect shade. Don't go too light – this can cause your skin to look ghostly – but don't go too dark either as this can lead to an overly chalky finish. Instead, use a translucent powder that matches your skin tone and provides just the right amount of coverage.
Once you've chosen the right color, you've got to figure out which type of powder to use; loose, pressed, or mattifying. Loose powders are great for baking or spot concealing, while pressed powders offer more control over coverage. As for mattifying? Forget it; you don't want to end up looking like a powdered donut. Now, all that's left is knowing how to properly apply it.
For a natural makeup look, it's best to apply setting powder with a big, fluffy brush. Start by dabbing the brush into the powder and lightly tapping off any excess before buffing the product into all areas of your face. Don't forget your jaw, neck and decolletage if you're wearing a low cut top! This will help provide a smooth and even finish without caking on too much product.
You don't have to be an expert painter to master the art of setting powder. With these simple tips and tricks, you'll be rocking natural skin makeup looks in no time.
Blush and Bronzer
Trusting myself to go bold and get creative, I'm about to cover blush and bronzer – two essential pieces of the natural makeup puzzle. To get the perfect flush, it's all about choosing shades that work best for your skin tone.
A golden-bronze pigment can do wonders if you wanna add some depth and dimension to your face. It's great for sculpting and illuminating the cheekbones, temples and jawline. Just make sure your bronzer isn't too dark or glittery – nobody wants to look over the top!
On the other hand, blusher is all about making you feel like a rosy-cheeked goddess. Go with something pinky-peach if you want to achieve a healthy, lit-from-within glow. For even more pizazz, try layering luminous shades on top (just keep it subtle).
Now when it comes to application, I couldn't recommend a big fluffy brush enough. This is key for buffing everything out and helping you achieve an airbrushed finish. Make sure to swirl your brush in circular motions when you apply, and above all else, blend, blend, blend!
Summing up, blush and bronzer are just as important as any other step in your natural makeup routine – and often overlooked. Don't be scared to experiment with different shades and techniques to find a look that suits you. That's what beauty is all about anyway, right?
Highlighter and Contour: Achieving the Perfect Look
Adding a little extra sparkle to your makeup look is easy with highlighters and contours. While it might seem intimidating at first, all you need is some practice and the right shades for your skin tone.
Let's start with highlighter. You want to find one that matches your skin tone, but something a bit lighter than you're used to. A champagne or pink shade usually works best. The trick to applying it correctly is keeping it to the highest points of your face. For instance, along your cheekbones, the bridge of your nose, your cupid's bow, and so on.
Contouring can be a bit trickier. It's best to choose two shades darker than your skin tone. Start by drawing a line down the sides of your nose and creating a bronzer C-shape underneath your eyes. Outline your forehead and cheeks as well, making sure to blend out evenly.
To make sure everything looks blended and natural, use a blending brush to buff out any harsh lines. And when in doubt, less is always more! As long as you have a light hand and use the right shades, you'll be able to achieve the perfect look for your skin tone.
Eyebrow Pencils and Gels: Tame Those Unruly Brows
If there's one part of your makeup routine you don't want to mess with, it's your eyebrows. It can be tricky getting those pesky hairs to cooperate, but a few organized steps can help you get the perfect look every time. Start by choosing the right shade of eyebrow pencil or gel – lighter shades look best on fair skin and darker tones goes great with more tanned complexions. When applying the product, use short strokes and follow the natural shape of brows. Pencils are great for adding definition and filling in gaps while gels hold hairs in place.
It's important to add light touches, even when creating an ombré effect. Make sure not to over do it! For a more dramatic look, use a slim brush to apply the powder or gel, then blend it out using a spoolie brush. Another trick is to use a lighter shade at the inner corners of the eyes, a slightly darker shade in the center, then the darkest shade at the tail end. This will give you the most natural finish.
Don't forget to set your masterpiece! A clear mascara works best for keeping everything in place. After that, feel free to go wild with creativity and experiment with crazy shapes, multiple colors, and anything else your heart desires. Just remember to keep it balanced – too much of any one color or shape can make your brows look cartoonish.
Now that you're an expert in eyebrow maintenance, you'll have no problem looking fab with minimal effort. Go out and show off your totally tamed and immaculately groomed brows!
Mascara: How to Find the Perfect Type for You
When it comes to mascara, you want to make sure you choose the right type for your eyes. Whether you're looking for a formula that lengthens or volumizes, there's something out there for everyone! Here are some tips to help you pick the perfect one.
First of all, look for a waterproof formula and read the reviews before you buy – this way you know you have the best chance of finding something that won't smudge or flake off during the day. Waterproof formulas are also the most long-lasting so you won't have to worry about reapplying throughout the day.
Another great tip is to test different types of applicators. While many people love the classic wand style, others may find that an angled brush works better for them. If you're really unsure, swatch a few on your hand or arm and see which you like best.
Finally, don't forget to check the ingredients. Natural formulas, like those made with botanical oils or waxes, can be gentle on your eyes and won't cause irritation. On the other hand, synthetic ingredients like polymers and dyes might be cheaper but can cause reactions in some people.
By following these simple tips you'll be able to find the perfect mascara for you! Good luck!
Lipstick: Expert Tips for Natural Skin Makeup
Ah, lipstick. The finishing touch to any makeup look! To achieve a natural look, choosing the right shade of lipstick is key – but that's just the start. Here, I'm sharing my expert advice on finding the ideal lipstick and applying it with precision.
First things first, pick a color or two that best compliments your skin tone. Opt for shades that are similar to the natural hue of your lips for a subtle look. Don't be afraid to experiment with various lipstick formulas either; you'll find everything from matte and cream to glossy finishes in stores. Next up is the application process. The key here is to work in layers, starting with a thin coat so you can build as you go. Use a lip brush for an even finish and don't forget to line your lips with a coordinating lip pencil.
Tools are important too. When it comes to achieving a natural look, I'm all about using makeup sponges instead of brushes to blend, blend, blend! They work wonders for seamlessly blending out harsh lines and, when dampened, create a dewy finish. Keep a pack of them handy and you're sure to have perfect looking lips every time.
Last but certainly not least, remember to remove any excess shine with a blotting paper or setting powder. This will help keep your lipstick in place. And there you have it! Now you know how to apply lipstick like a pro for natural skin makeup.
Drawing a Close to Natural Skin Makeup
If you've been following along, then you should have a pretty good handle on the basics of natural skin makeup! From the beginning steps of cleansing and moisturizing to the final touch of lipstick, there are lots of ways to get your look just right. Now that you know all the essentials it's time to put them into practice.
When it comes to nailing an effortless, everyday look, feel free to mix-and-match, tweak, and customize until you find the perfect balance of coverage and color for you. Don't be afraid to experiment – start with what works for you and then adjust until you find the best results! And don't forget to keep your skincare routine in check too; healthy, hydrated skin is always a plus.
So go ahead and show off your natural beauty without overdoing it. After all, subtlety can be key! With these tips, you'll be well on your way to mastering the art of natural skin makeup.
FAQs on Natural Makeup
How can I even out my skin tone without foundation?
Using makeup to look like natural skin is all about ensuring that your foundation, contour, and blush are applied in the right way. That means blending them into your skin, using a lightweight formula that won't cake on top of your skin. One trick I often use is to mix a little bit of moisturizer with my foundation, which helps the product sink a bit deeper into the skin and gives a more "natural" look. Another great trick is to use a sponge to apply your foundation, rather than using a brush. This helps it blend better, so it looks more like your own skin. Finally, finish off with a light dusting of powder, to make sure your look stays matte and flawless all day.
In terms of evening out your skin tone without foundation, one of the best tricks is to use a BB or CC cream, which has light coverage, but can help balance out any skin tone irregularities. It also provides a bit of hydration and SPF, which is great for keeping your skin healthy. And if you want to go even lighter, then a tinted moisturizer is another good option. Both of these products are easy to blend into the skin, giving you a beautiful, natural look.
How do you make your makeup look smooth on your skin?
There's no one-size-fits-all approach to making your makeup look like natural skin. However, the key is to have a thorough skin-prep routine, use light layers and choose the right products. When prepping, start with a gentle cleanser to remove any dirt and oil and follow it up with a moisturizer or serum to keep your skin hydrated.
Then, apply a primer to help your makeup go on smoother and last longer. For a natural skin look, I recommend applying your foundation and concealer with a damp beauty blender. This helps to create a sheer, light layer of coverage and blend the lines of the makeup into the skin. To make it look even more natural, add a bit of contour and highlight with a cream product.
Finally, add some color to make your look pop. A light blush and a subtle eyeshadow look can make a big difference – but make sure to use a quality eyeshadow primer, like Urban Decay's Eyeshadow Primer Potion, to prevent creasing and fading. For your lips, pick a sheer, natural shade that matches your complexion. Voila! You've got natural-looking skin in no time!