Weird Benefits of Wearing Fake Eyelashes
Now, I know what you're thinking, "fake is never better than the real thing". But hear me out, there are legitimate reasons why wearing fake eyelashes can be beneficial, and not just for special occasions or cosplay.
In this post, I'll give you the rundown on why fake eyelashes could potentially enhance your look and the different types of lashes available. So, before you completely dismiss the possibility of wearing fake eyelashes, keep reading to learn more!
Types of Fake Eyelashes: Synthetic, Mink, and Silk
Now that you're considering fake eyelashes, it's important to know the different types available. Synthetic lashes are the most popular and affordable choice. They're made of either plastic or acrylic fibers and offer a variety of lengths, thickness, and colors. Mink lashes are made from the fur of minks and offer a more natural look, but they're much more expensive. Silk lashes, on the other hand, offer the same natural look as mink lashes but at a lower cost. They're also more durable and can be reused several times. Choosing the right type of lash will depend on your preferences and budget.
Factors You Should Consider Before Choosing Your Fake Eyelashes
Okay, so you've decided to give fake eyelashes a try. That's fabulous! However, before you head to the store to pick up what looks like the perfect lashes, there are a few things you should consider. Trust me; it's not just about finding the most affordable option or the prettiest lashes.
Length
The length of the fake eyelashes is an essential factor to consider. Depending on the look you want to achieve, you may want to opt for either natural or dramatic lashes. Remember that choosing lashes that are too long or too wide can make them look fake, which isn't the look we're going for. It would be best if you also considered the shape of your eyes when choosing the length of your lashes.
Color
Another critical factor to consider when choosing fake eyelashes is their color. You want to choose lashes that match your natural hair color to create a cohesive look. But, if you're feeling daring, you can also opt for colored fake eyelashes to add a pop of color and create a bold statement. Just be sure to choose wisely and remember that the more dramatic the color, the less natural your overall look will be.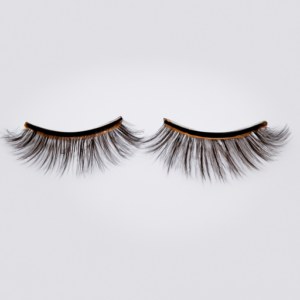 Lastly, but certainly not the least, price also plays an important role when it comes to choosing fake eyelashes. High-quality lashes often come at a higher price point, but that doesn't mean you can't find affordable, good quality lashes. Do your research, compare prices and read reviews online. Always remember, a higher price doesn't always equal better quality.
Remember these essential factors before choosing your fake eyelashes to ensure you select the perfect pair that suits your eye shape and complements your natural beauty. For more tips and expert advice on choosing the right fake eyelashes, visit Winks Eyelash Boutique website.
How to Properly Apply Fake Eyelashes
Okay, now it's time to learn the *real* secrets of applying fake eyelashes. First things first, make sure your eyes are clean and free of any oily residue. Then, take your lashes and gently bend them a few times to make them a bit more flexible.
Next, squeeze a bit of lash glue onto the back of your hand and use a toothpick or small brush to apply it to the base of the false lashes. Be sure to use just enough glue – not too much, or it'll get messy.
Wait about 10-15 seconds for the glue to become tacky before you start applying the lashes. Starting at the inner corner of your eye, gently press the lashes against your natural lash line. Use your fingertips or a pair of tweezers to gently mold the false lashes into place, pressing them down as close to your lash line as possible.
Once the glue has dried, you can finish off your look with a bit of mascara to pull your natural and fake lashes together. And voila! You've got stunning, picture-perfect eyelashes ready to take on the world.
The Bottom Line: Picking the Perfect Pair of Fake Eyelashes
Wow, we've covered a lot of ground! Whether you're looking to glam up your everyday look or impress at a special event, fake eyelashes can be a game-changer. But before you dive in, there are a few things to consider.
First and foremost, think about what kind of look you're hoping to achieve. Do you want something dramatic or subtle? Long and curled or short and spiky? Whatever your preference, there is a style out there for you.
It's also important to consider color and price, as well as the type of lash material you prefer (synthetic, mink, or silk). Your budget and personal values will ultimately dictate which option is best for you.
But even after you've selected the perfect pair, mastering the application process can take some practice. Be patient and methodical, following the steps we've outlined for optimal results.
At the end of the day, remember that false eyelashes are meant to enhance your natural beauty, not hide it. So don't be afraid to experiment and find what works for you.
With these tips in mind, you'll be rocking your falsies like a pro in no time!