I'm All About That Natural Look: Let's Talk Clear Mascara
Hey there, beauty lovers! If you're like me, you prefer a natural makeup look that accentuates your features without being overbearing. One simple way to achieve this is by incorporating clear mascara into your routine.
So, what is the natural look? It's all about enhancing your natural beauty without going over the top. Clear mascara is perfect for achieving this because it adds definition and length to your lashes while remaining invisible.
I'm excited to share tips on how to use clear mascara to achieve a natural look and also give some other natural makeup tips. Let's get started!
Clear Mascara: Seeing is Believing!
When it comes to natural makeup looks, clear mascara is a game-changer. You might be wondering, what is clear mascara? As the name suggests, it's a colorless mascara that adds definition, length, and volume to your lashes while maintaining a natural appearance. In this section, I'll cover the benefits of using clear mascara and how to use it properly.
Benefits of Using Clear Mascara
Clear mascara has many benefits that make it a must-have for any natural makeup look. Firstly, it can be used to define and separate lashes without adding bulk or stiffness. Secondly, it provides a glossy, polished look that enhances the natural beauty of your eyes. Finally, clear mascara is perfect for touch-ups throughout the day and can be used to refresh makeup without smudging or clumping.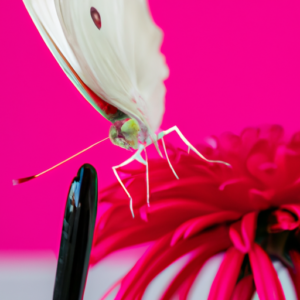 Using clear mascara is easy, but it's important to follow some basic guidelines to get the best results. Firstly, always start by curling your lashes with an eyelash curler. Then, apply the clear mascara to your lashes in a zig-zag motion, starting at the root and working your way to the tips. For a more intense look, apply multiple layers, waiting for each one to dry before adding the next. To finish, comb through your lashes with a clean mascara wand to remove any clumps or tangles.
Expert Tips for Applying Clear Mascara
For even better results with clear mascara, try these expert tips:
Start by applying a coat of your regular mascara for extra volume before using the clear mascara for definition and separation.
For finer lashes, use a clear mascara that's infused with conditioning agents to strengthen and nourish your lashes.
If you want to add length and volume without using regular mascara, try using a lash primer or growth serum before applying clear mascara.
Conclusion
Clear mascara is a versatile and essential tool for anyone looking to achieve a natural makeup look. It's easy to use and provides a polished, finished look without the fuss. By following these tips and tricks, you can create a beautiful, effortless look that enhances your natural beauty and makes you feel confident and radiant.
Expert Tips for Applying Clear Mascara: The Lowdown on Luscious Lashes
As a makeup artist with years of experience in the industry, I swear by clear mascara as a key tool in creating a natural, effortless look. But, there's more to it than just swiping it on your lashes! Here are some expert tips to make your clear mascara the star of your look.
Preparing your lashes before application
To ensure your lashes are set up for success, it's crucial to prepare them before applying any product. Start by curling them using an eyelash curler. It's best to do this before applying any other makeup, as waiting to curl them after could cause the mascara to smudge. In addition to curling, brushing them out with a clean spoolie brush can help to prevent clumping.
Applying clear mascara in layers
Less is more when it comes to clear mascara! Rather than over-applying in one go, apply it in thin layers, starting at the base of your lashes and wiggling your way up. Wait for each layer to dry before adding the next one, which will help to avoid clumping and give you more control when adding volume.
Adding length and volume with clear mascara
While clear mascara won't give you the same dramatic effect as a dark mascara, it can still be used to add length and volume to your lashes. For added length, try holding the wand vertically when applying clear mascara to the tips of your lashes. To add volume, use the same technique as layering, but apply more product to the tips of your lashes.
By following these expert tips, you'll be able to create a natural and effortless look using clear mascara to enhance your lashes. Keep in mind that less is more – it's a subtle product, after all – so don't go overboard!
Other Natural Makeup Tips to Enhance Your Look
When it comes to achieving a natural look, clear mascara is a go-to product. But if you want to take your look to the next level, incorporating these other natural makeup tips can make all the difference in helping you stand out. Here are some expert tips to consider:
Using Light, Neutral Colors
When it comes to eyeshadow and lipstick, using lighter, neutral colors can help enhance your natural beauty. Rather than bold, bright shades, opt for softer hues that complement your skin tone. This can help give you a fresh-faced, natural appearance that looks artlessly amazing.
Minimal Blush and Bronzer
While blush and bronzer can give your complexion a healthy glow, going overboard can make your look overly made up. Stick to a minimal amount of both, applying them sparingly to the apples of your cheeks or where the sun naturally hits your face.
Keeping Skin Hydrated and Moisturized
The key to achieving a natural look often lies in taking care of your skin first. Keeping your skin hydrated and moisturized can help enhance your natural beauty and give you a radiant glow. Make sure to use a daily moisturizer and drink plenty of water to keep your skin looking its best.
By incorporating these natural makeup tips along with your clear mascara, you can achieve a natural look that turns heads for all the right reasons. To learn more about clear mascara and other beauty tips, visit Winks Eyelash Boutique.
That's it! Natural makeup is as easy as clear mascara
Now that you know what clear mascara is and why it's one of the most essential makeup products for achieving a natural look, it's time to apply it like a pro. Firstly, make sure you properly prepare your lashes by combing them out and removing any clumps. When applying the mascara, use a gentle hand and take your time to build it up in layers. If you want to add extra length and volume, focus on the tips of your lashes.
Remember that less is more when it comes to natural makeup, so use light, neutral colors for your eyeshadow and lip gloss. Do not go heavy on the bronzer and blush. Keeping your skin well-hydrated and moisturized can also make a world of difference and give you that healthy glow.
Don't forget that the goal of natural makeup is to enhance your natural beauty, not hide it. Let your unique features shine through while using these expert tips to gently accentuate them. Finally, clear mascara is just one of many makeup tools that can elevate your natural look, but it's definitely a top pick.