Introduction: Blushing 101
Well, hello there! Are you feeling a little shy and bashful? Or maybe you just want to add a rosy glow to your cheeks? That's where blush comes in! Blush is a makeup product used to add color to the cheeks and give the face a more youthful, healthy appearance. But what exactly is blush, you ask?Blush is a cosmetic product that comes in different forms like pressed powder, cream, or gel. It adds color to the cheeks, making them look brighter and more defined. It's not just for people with fair skin too! Blush comes in different shades and types, making it suitable for anyone, regardless of skin tone.Now that we've got the basics down, let's dive deeper into the different types of blushes, their benefits, and some tips on how to apply them like a pro!
All About The Blush – Different Types, Benefits, and Tips
Yo, let's talk about blush, shall we? It's one of my favorite makeup products out there. But did you know that there are different types of blush? Yup, you heard that right.
Pressed Powder Blush
The most common blush type out there is a pressed powder blush. It's easy to apply, blendable, and buildable. You can also find it in many shades and finishes like matte, satin, and shimmer. It's perfect for those with oily or combo skin types as it helps absorb excess oil.
Cream Blush
Cream blush is perfect for those with dry or mature skin types. It's hydrating, moisturizing, and gives a natural glow. You can apply it with your fingers, a brush, or a sponge. It's also buildable and blendable, making it easy to achieve the look you're going for.
Gel Blush
If you want something lightweight and long-lasting, gel blush is the way to go. It's perfect for all skin types and gives a dewy finish. You can apply it with your fingers or a brush, making it easy to blend into your skin. But be careful not to apply too much as it can be hard to remove.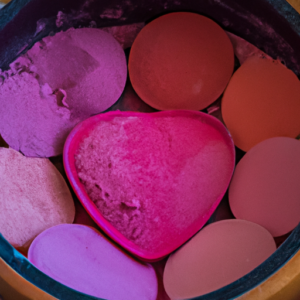 Now you might be wondering, which type of blush is suitable for my skin type?
Blushing with the Best: Finding the Perfect Blush for All Skin Types
When it comes to selecting the right blush, we may end up feeling like Goldilocks testing out porridge. It's either too light, too dark, too cakey, or too patchy. But worry not, as there is a blush that's just right for any type of complexion.
For Oily/Acne-prone Skin:
Pressed powder blush is your best bet if your skin is prone to excessive oiliness or acne. It gives color to your cheeks without adding extra shine or oil to the skin. Pair with an oil-free foundation and finish off with a natural setting spray.
For Dry/Mature Skin:
A cream blush is perfect for those with dry or mature skin as it adds a dewy glow to your skin while also providing sufficient moisturization. Dab a little product onto your cheeks, blend it out, and voila! You're glowing and hydrated.
For All Skin Types:
Gel blush is the perfect compromise between cream and powder. It lasts longer than a cream and is non-drying like a powder. They blend in effortlessly and look natural, providing a healthy flush to your skin. Swipe the product on your cheeks, blend it quickly and be ready to step out with a smooth glow.
The key is to choose a formula based on your skin type and texture. With adequate research and a few trials, finding a suitable blush to suit your skin type is as easy as pie. When you blush with the best-suited product, you'll feel confident and stunning.
4. Benefits of Using Blush: Why I Can't Live Without It
Let me tell you, using blush has been a game changer for me. It adds a pop of color and dimension to my cheeks, making my face look brighter and more alive.
But that's not all – blush has some serious benefits that go beyond just adding color to your face. For one, it can help contour and define your cheeks, which can be especially helpful if you're working with a rounder face shape like I am.
Additionally, blush can help tie your makeup look together and make it look more polished. It's like the cherry on top of a sundae – without it, something just feels like it's missing.
But perhaps my favorite thing about using blush is that it can make you look happier and more youthful. That might sound a bit silly, but when you add some color to your cheeks, it can give the illusion of a healthy, glowing complexion. And who doesn't want that?
So, if you're on the fence about using blush, my advice would be to give it a try. You might be surprised at how big of a difference it can make in your overall look!
I Got Tips for Applying Blush That'll Make You Glow, Hun!
Okay, so let's talk blush. Whether you're a seasoned pro or a beginner, there are always ways to improve your application techniques. Here are some of my tried and true tips for achieving a perfect flush:
First, start with a light hand. It's much easier to add more blush than to remove too much. So, apply a small amount and gradually build up to your desired look.
Next, choose the right brush. A fluffy, angled brush works best for powder blushes while a smaller, denser brush is better for cream and gel formulas.
When applying blush, smile! This will help you locate the apples of your cheeks, which is where you want to focus your product. Use circular motions to blend the product up towards your hairline, but avoid going too high up on your cheeks or towards your nose.
Don't forget to blend. The key to natural-looking blush is blending it into your skin seamlessly. You can use a clean brush or sponge to softly blend out any harsh lines.
Lastly, consider your skin tone and undertones when choosing a blush shade. Cooler tones look best in rosy, pink shades while warmer tones should opt for peach or coral shades.
Follow these tips and I promise you'll be a blushing beauty in no time!
My Final Thoughts on Blush: A Natural Beauty Essential
So there you have it, my take on blush and why it is a must-have for anyone wanting to achieve a natural and healthy glow.
When it comes to using blush, it's important to consider your skin type and choose a formula that complements it well. If you have oily skin, a powder blush may be the way to go, whereas for dry skin, a cream or gel blush might work better.
The benefits of using blush are numerous, from adding color and dimension to your face to making you look more youthful and healthier. And with the right application techniques, blush can truly transform your look!
When it comes to applying blush, don't be afraid to experiment and find what works best for you. Whether you prefer to use a brush, your fingers, or a beauty sponge, make sure to blend, blend, blend for a natural-looking finish.
Overall, I can't recommend blush enough as a natural beauty essential. It's a simple yet effective way to enhance your features and achieve a radiant complexion. So next time you're doing your makeup, don't forget to add a pop of color with some blush!
FAQ about Skin Blushing
How do I choose blush for my skin tone?
Well, let me tell you, there's no magic formula for finding a blush that's right for everyone, but there are some things you can keep in mind when you're on the hunt for the perfect shade to suit your complexion. The key is to choose a color that complements your skin tone, not overwhelms it. That being said, a neutral, peachy or pink toned blush can work for all skin types, although the exact shade might vary depending on skin tone. If you have fair skin, you might want to try something more pink or coral, while if you have deeper skin, you might want to opt for more red or berry tones. It's also important to consider the formula of the blush. Powder blush works well for most skin types, but if you have dry skin, you might want to try a cream or liquid formula for a more natural finish. If you have oily skin, a matte powder might be your best bet so you don't end up looking shiny.In terms of application, start with a light hand and build up the color gradually. You don't want to go for a heavy-handed approach that makes your skin look clownish. Get a good quality blush brush and apply a small amount of product to the apples of your cheeks, blending out towards your temples.At the end of the day, the best way to choose a blush that suits your skin tone is by trying different shades and formulas to see what works best for you. Don't be afraid to experiment and have fun with it – after all, makeup is all about expressing yourself and enhancing your natural features!
Which blush is best for natural look?
For any skin type, I recommend using a powder blush. It's easy to apply and can be built up for a more dramatic look. Additionally, powder blushes tend to be long-lasting and work well on both oily and dry skin types. When it comes to choosing a shade, pinks and peaches are usually a safe bet. They provide a natural-looking flush that enhances your skin's natural glow. However, if you have a deeper skin tone, consider a richer berry or brick shade to complement your complexion. It's essential to remember that a little goes a long way with blush, so apply it gradually and build up until you reach your desired look.
When aiming for a natural look, cream blushes are ideal. They blend effortlessly into the skin, mimicking the effect of a natural flush. With cream blushes, you're best off using your fingers to apply them, as they will create a seamless and natural finish. They're perfect for minimal makeup looks and dry skin types, as they provide an extra layer of hydration. Avoid using powder or matte formulas, as they can appear heavy and cakey on bare skin. With cream blushes, it's always best to start with a small amount and add more as needed, as they are more pigmented than powder blushes. Overall, with the right blush formula and shade, you can achieve a natural, healthy-looking flush that enhances your features.
Should blush match skin tone?
Well, from my experience working in the beauty industry, I've found that a sheer or translucent blush is suitable for any skin type. This type of blush gives a natural flush to the cheeks without overwhelming the skin. It also allows the natural skin tone to shine through, which is important because everyone's skin is unique. As for whether blush should match skin tone, I'd say it's not necessary. In fact, some makeup artists intentionally choose blush shades that contrast with the skin tone to create a more dramatic or artistic look. Ultimately, the goal of blush is to add a touch of color to the cheeks and enhance the overall complexion. So, as long as the blush complements the rest of your makeup and doesn't clash with your outfit, it's all good. Of course, there are other factors to consider when choosing a blush, such as the formulation (powder, cream, liquid) and the application technique. But if you're unsure where to start, a sheer, universally flattering blush is always a safe bet. It's a quick and easy way to brighten up your face and bring a little bit of joy to your day. So go ahead, give it a try!