Hey, Glowing Gals: Powder Blush is Your New Bestie!
Listen up, ladies! If you're looking for a way to enhance your natural beauty and create a radiant, healthy glow, then powder blush is your new go-to beauty product. Powder blush is a type of makeup that adds color and definition to your cheeks, and it's a must-have for any makeup bag.
So, what are the benefits of using powder blush, you ask? Well, for starters, it can make you look more youthful and awake. It's perfect for adding dimension to your face and highlighting your cheekbones. Plus, it's super easy to use and can create a subtle or dramatic effect, depending on your preference.
Different Types of Powder Blush
Alright, let's talk about the different types of powder blush out there. Ya know, not all blushes are created equal!
Matte Blush
First up, we have matte blush. This type of blush has no shimmer or sparkle to it and is completely flat. It's perfect for those who want a natural, subtle look and is great for those with oily skin.
Shimmer Blush
Next, there's shimmer blush. This type of blush has light-reflecting particles and provides a radiant, glowing look. It's perfect for those who want to add highlights to their cheeks and get that dewy look.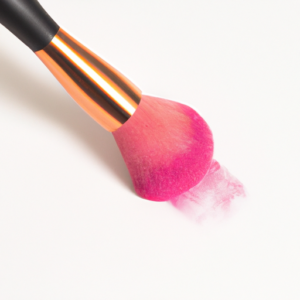 Pro Tip: For a more natural look, try applying shimmer blush only on the highest point of your cheeks – where the light would naturally hit.
Remember, when choosing a powder blush, take into consideration your skin tone and what look you're trying to achieve. If you're still unsure which type of blush is right for you, check out this article that has some great tips on how to choose the best blush for your skin type.
So, whether you go for a matte blush or a shimmer blush, you'll be sure to find the perfect blush to make your cheeks pop!
Get the Perfect Cheek Color with these Tips
Applying powder blush may seem easy, but there are a few tricks to ensure you get the perfect cheek color every time. As a makeup artist, I've learned the ins and outs of applying powder blush flawlessly. Here are my tips:
Clean and Prep Your Face
Before applying any makeup, make sure your face is clean and moisturized. Use a gentle cleanser to remove any excess oil or dirt, then apply a lightweight moisturizer to hydrate your skin. This will help the blush go on smoothly and evenly.
Choose the Right Shade
Picking the right shade is crucial. You want to choose a color that complements your skin tone and adds a natural-looking flush to your cheeks. Fair skin tones should use lighter shades, while deeper skin tones can handle darker hues. If you're unsure, try swatching a few shades on the back of your hand before committing to a color.
Use the Right Brush
Using the right brush is just as important as picking the right shade. A fluffy brush with a tapered head will give you a natural-looking finish. Avoid using small, dense brushes, as they can deposit too much product and make your cheeks look clownish.
The Application Process
When applying blush, start at the apples of your cheeks and work your way up towards your temples. Smile to locate the apples, then apply the blush in circular motions. Make sure to blend the color out towards your hairline to avoid harsh lines or patchiness.
Finishing Touches
After applying your blush, use a setting spray to lock in your makeup and keep it looking fresh all day. This will also help to prevent your blush from fading or smudging.
By following these tips, you can achieve a natural-looking, flushed complexion in no time. Remember to practice, experiment with different shades and brushes, and most importantly, have fun!
Finishing Touches: The Final Steps for Perfect Blush Application
Now that you've applied your powder blush perfectly, it's important to finish off your makeup look with a few final touches. Here are some tips to make sure your blush lasts all day:
Setting Your Makeup
After applying your blush, use a setting spray or powder to keep your makeup in place. This will help seal your powder blush and prevent it from rubbing off during the day. If you prefer a powder, lightly dust it over your entire face and neck with a large fluffy brush. If you prefer a spray, hold it about six inches from your face and mist it all over.
Touching Up Throughout the Day
Even with a setting spray or powder, your blush can still fade or rub off as the day goes on. To keep your cheeks looking rosy and fresh, carry a small tube of blush with you and reapply it as needed. Just make sure to blend it out well before heading back into the world.
A Little Goes a Long Way
Remember, with powder blush, less is more. Too much blush can make you look like a clown, so start with a light hand and build up as needed. If you do overdo it, don't worry – just dust a bit of translucent powder over the top to tone it down.
With these finishing touches, your powder blush application is sure to be flawless. Now go out and show off those rosy cheeks!
Bottom Line: Powder Blush is the Perfect Way to Add Color to Your Look!
Hey there, it's your friendly beauty enthusiast here to sum things up for you. After exploring the world of powder blush, I can confidently say that it's a must-have for anyone looking to give their face some extra dimension and color. Let's recap the benefits of using powder blush: it's versatile, easy to apply, and comes in a variety of shades and finishes. Whether you want a matte or shimmer look, there's a powder blush out there for you. Plus, powder blush stays put all day long, making it perfect for a busy life.When it comes to applying blush, remember to prep your face correctly by cleaning and moisturizing. Choose the right shade- try out different ones in natural lighting- and pick a brush that works for the application you want. Swirl the brush around your blush, tap off the excess, and apply in a circular motion.Once you're finished applying, don't forget to set your makeup with a setting spray or powder to ensure your look lasts all day long. And voila! You're ready to take on the day with a fresh, colorful look.In conclusion, if you're looking for a way to add some brightness and dimension to your face, powder blush is the way to go. With a little practice, you'll be a pro in no time!