Contouring: Mastering Makeup's Art of Illusion
Okay, so you want to learn how to contour like a pro? Well, let me tell you, it's not as easy as it looks. But don't get discouraged! With practice, you can master the art of contouring with makeup and give your face the illusion of perfect structure and balance.
So, what exactly is contouring? In simple terms, it involves using makeup products to create shadows and highlights on your face, enhancing your features and giving the illusion of a more sculpted look. But it's not just about slapping on some dark and light shades on your cheeks and calling it a day. There's a lot more to it than that.
Why is mastering the art of contouring important? Well, for one, it can help you enhance your natural beauty and give you more confidence in your appearance. It can also help correct any asymmetries or imperfections in your facial structure, giving you a flawless look.
Prepping the Skin: Get ready to contour like a pro!
Before jumping into the exciting world of contouring, it's important to prep your skin properly. Trust me, prepping is key! First things first, make sure you cleanse and moisturize your face. This will ensure that your makeup goes on smoothly and evenly. If you have oily skin, use a mattifying primer to prevent your makeup from sliding off. For dry skin, use a hydrating primer to create a smooth canvas.
Next, choose the right tools for the job. You'll need a range of brushes in different sizes and shapes. I recommend using a small, angled brush for contouring, a fluffy brush for blending and a fan brush for highlighting. Don't forget to clean your brushes regularly to prevent bacteria buildup.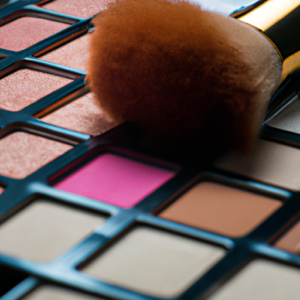 Lastly, consider the products you'll be using. Cream products are great for beginners because they're easy to blend and can look very natural. However, they can slide around if the weather is hot or humid, so make sure to set them with a powder. If you prefer powder products, make sure your skin is well moisturized so it doesn't look dry and patchy.
By properly prepping your skin, you'll ensure that your contouring looks flawless and lasts all day. Trust me, taking a few extra minutes to prep is absolutely worth it!
Contouring Basics: Sculpting Your Way to a Perfect Face
Guys, let's talk about the basics of contouring. You don't need to be a professional makeup artist to contour, but you do need to understand some fundamentals about facial structure and how to properly apply contour products. First and foremost, you want to create the illusion of a more defined face. This is done by applying shadows in places where there is natural darkness on the face. This is usually under the cheekbones, along the hairline, and on the sides of the nose.
When selecting a contour product, opt for a matte shade that is a few shades darker than your skin tone. Avoid anything too orange – you don't want to look like you have a fake tan on your face. Using a fluffy brush or sponge, blend in your contour product in a downwards motion. This will help maintain a natural-looking shadow.
When contouring, it's essential to study your face shape. Every face is different, and thus, contouring techniques vary. But generally, if you have a round face, create more shadows along the chin and jawline. If you have a square face, soften the sharp angles with contouring. If you have a long face, make your cheekbones appear wider with shadows.
In conclusion, contouring is all about creating the illusion of a more sculpted face. It takes practice, but with the right tools and techniques, you can become a pro in no time. Remember, it's all about understanding your face shape and applying your products with a light hand. Finally, have fun with it – makeup is all about experimentation and expression!
Highlighting and Blending: The Secrets to a Natural Look
Okay, so you've got the hang of contouring, but you don't want to look like a Kardashian with harsh lines and obvious shading. The key to a natural-looking contour is highlighting and blending. Let me give you some expert tips on how to nail this crucial step.
Choosing the Right Products
When it comes to highlighting, I always go for a creamy concealer that's a shade lighter than my skin tone. I apply it to the areas I want to highlight, like the under-eye area, the bridge of my nose, and the center of my forehead. For blending, a damp beauty blender is your BFF. Make sure it's thoroughly saturated with water before you bounce it along the edges of the concealer. This will help diffuse the harsh lines and ensure a seamless blend.
Using Bronzer
For more definition, I use a matte bronzer to deepen the hollows of my cheeks, temples, and jawline. It's essential to choose a shade that's not too orange and has a cool undertone, so it looks natural. To blend it in, I use a fluffy brush and circular motions while keeping the brush moving in the direction of my temples. If you're not sure if you have blended enough, take a selfie to see if the placement looks natural.
Finishing Touches
When you're happy with your highlight and contour, it's time to set it with powder. Using a fluffy brush, I dust a translucent setting powder over my T-zone and under my eyes to ensure longevity. If I want an extra glowy look, I use a shimmery powder highlighter and dust it over the high points of my face, like the cheekbones and brow bone. Finally, I add some color to my cheeks with a blush that complements my skin tone.
Remember, practice makes perfect with highlighting and blending. Don't be afraid to experiment and find what works for you.
## Finishing Touches: Powder and Blush, Oh My!Alright, folks, we've made it to the home stretch of our contouring journey! We know how to prep our skin, we can create killer shadows with our contour products, and we've mastered the art of blending. Now, it's time to set everything in place with some powder and add a pop of color to those cheeks with some blush.First things first, powder. I like to use either a translucent or slightly tinted powder to set my contour in place and prevent any oiliness throughout the day. Using a fluffy brush, I dust the product lightly over my entire face, focusing on my T-zone and under my eyes.Next up, blush. Here's where things can get a little tricky. I've found that the key to a natural-looking blush is to make sure it's blended well and compliments your skin tone. If you're on the fairer side, try a light pink or peachy shade. For medium to darker skin tones, go for something a little brighter, like a coral or berry hue. Using a fluffy blush brush, I apply the product to the apples of my cheeks and blend upwards towards my temples.And there you have it, folks! All of the steps needed to create a flawlessly contoured face. Remember, practice makes perfect with this technique, so give yourself some time to experiment and find what works best for you.Oh, and before you go, make sure to check out this article on Glam Makeup at Wink's Lash Boutique for more beauty tips!
Finally, I Got It! Mastering the Art of Contouring with Makeup
After putting all the effort, finally, I have mastered the art of contouring with makeup. It is not only essential for professionals but also for beginners to learn this technique. With a few steps, I can transform my facial features and achieve the desired look.
Before starting the contouring process, it is important to prepare the skin by cleansing, toning, and moisturizing. I always make sure I have the right tools like brushes and sponges to achieve the desired results.
Understanding the fundamentals of facial structure is crucial when it comes to contouring. By creating an illusion of defined cheekbones, jawline, and nose, I can enhance my features and transform my appearance. Learning how to highlight and blend correctly is essential to creating a natural look.
To finish my makeup look, I set it with powder and add color to my cheeks. This gives a natural-looking flush to my skin and completes the look.
In conclusion, mastering the art of contouring with makeup has numerous benefits. It allows me to experiment with different looks and transform my features without any surgery. It is a must-have skill for any makeup artist or anyone who loves to enhance their natural beauty.