What's the deal with waterproof mascara? Let's dive in.
Okay, I'll be honest, I used to be skeptical about waterproof mascara. I mean, why bother, right? How often do we actually need our mascara to be waterproof? But after a few teary-eyed occasions and some poolside makeup malfunctions, I started to see the appeal.
So, what exactly is waterproof mascara? Well, it's pretty self-explanatory – it's a mascara that's designed to resist water, whether it's from sweat, tears, or a dip in the pool. This can be especially useful for those with watery eyes or those who want their mascara to last through any intense activities.
One of the most obvious benefits of waterproof mascara is that it's long-lasting. You won't have to worry about your mascara smudging or smearing throughout the day, which can be a huge confidence booster. Plus, it can save you some time and hassle when it comes to touch-ups.
Get the Most Out of Your Waterproof Mascara: Tips for Long-Lasting Wear
When it comes to wearing waterproof mascara, there are a few essential tips that will help you get the longest-lasting wear possible. As someone who has tried and tested many different waterproof mascaras over the years, I've learned a thing or two about what works and what doesn't. Here are my top tips for getting the most out of your waterproof mascara.
Start with a Clean Base
The key to long-lasting waterproof mascara is starting with a clean base. Make sure to remove any traces of oil or leftover makeup before application. This will help your mascara adhere to your lashes better and prevent smudging or flaking throughout the day.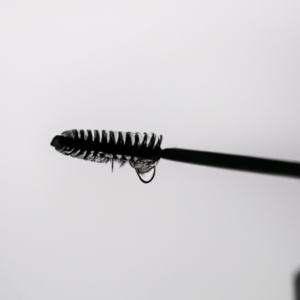 When applying waterproof mascara, it's best to go for thin coats rather than thick ones. Applying too much mascara at once can cause clumping and flaking, which can ruin your look. Instead, take your time, and apply several thin coats, waiting a few minutes between each one to let the mascara dry.
Use a Waterproof Mascara Primer
If you really want to make your waterproof mascara last, try using a waterproof mascara primer. These primers can help to condition and protect your lashes while also providing an extra layer of waterproofing. Apply the primer before your mascara for added benefits.
Avoid Rubbing Your Eyes
One of the biggest mistakes people make when wearing waterproof mascara is rubbing their eyes. Not only can this cause smudging, but it can also damage your lashes and cause them to fall out. If you need to rub your eyes, try dabbing gently instead.
Remove Carefully
When it's time to remove your waterproof mascara, do so carefully. Use a gentle, oil-based makeup remover and let it sit on your lashes for a few seconds before wiping away. This will help to loosen the mascara and make it easier to remove without pulling or tugging on your lashes.
By following these simple tips, you'll be able to get the most out of your waterproof mascara and enjoy long-lasting wear without any smudging or flaking.
What to Look for in a Waterproof Mascara (and not for others)
Choosing the right waterproof mascara can be daunting, but there are a few key things to consider to ensure you're getting the best product. First and foremost, look for a waterproof mascara with a long-lasting formula. Some mascaras claim to be waterproof but easily smudge or flake off after only a few hours of wear. You want a mascara that will stay put throughout the day, no matter the conditions.
Another important factor to consider is the applicator wand. Look for a wand with dense bristles that are evenly spaced apart. This will help ensure that the mascara applies evenly to each lash, giving you fuller, longer-looking lashes. Additionally, consider the shape of the wand. A curved wand will help to lift and curl your lashes, while a straight wand is best for precision and separation.
Avoid waterproof mascaras that contain harsh chemicals, such as formaldehyde and parabens. These ingredients can irritate the skin and cause allergic reactions. Instead, look for a mascara with natural ingredients like beeswax and jojoba oil, which can nourish and condition your lashes.
Lastly, take into account your personal preferences when it comes to the finish of your mascara. Some mascaras provide a more natural, subtle look, while others are more dramatic and volumizing. Choosing the right finish for your lashes will ultimately depend on your desired look and the occasion.
By considering these factors, you can find the best waterproof mascara that meets your needs and exceeds your expectations.
Top 5 Longest-Lasting Waterproof Mascaras
Alright ladies and gents, it's time to talk about the real deal: the top five longest-lasting waterproof mascaras out there! I've been in the beauty world for a while now, and I've tested countless mascaras to find the ones that can withstand snow, sweat, and tears (literally). Here are my top picks for you to try:
1. L'Oreal Paris Voluminous Waterproof Mascara – This classic mascara has been a go-to for many for good reason. It adds volume, doesn't flake, and lasts all day. Plus, it won't break the bank!
2. Benefit Cosmetics BADgal Waterproof Mascara – This mascara gives you bold, dramatic lashes that will stay put through any weather. Its thick brush makes for easy application, and it will last you all day without any smudging.
3. Maybelline New York Lash Sensational Washable Mascara – Not only is this mascara waterproof, but it's also washable. It gives your lashes a full, lush look without clumping, and it will last through any waterlogged situation.
4. Too Faced Better Than Sex Waterproof Mascara – If you're a fan of the original Better Than Sex mascara, you'll love the waterproof version. It doesn't budge or flake, and it will give you those same voluminous lashes you know and love.
5. CoverGirl LashBlast Volume Waterproof Mascara – This mascara will give you bold, voluminous lashes that will last all day. Its oversized brush helps to coat every single lash, and it won't smudge or smear.
Now that you know which mascaras to try, don't forget to follow my tips for getting the most out of your waterproof mascara. And, if you want to amp up your lash game even further, check out this article on how to maximize volume with the right mascara from Winks Eyelash Boutique. Happy mascara-ing!
Wrapping It Up: Top Waterproof Mascara Picks and Tips for Long Wear
Well friends, we've come to the end of our waterproof mascara journey. But don't worry, I've got you covered with my top picks for long-lasting formulas and some extra tips for getting the most out of your waterproof mascara.
First, let's recap why waterproof mascara is so great. It's perfect for hot summer days, rainy weather, or any time you want your mascara to stay put without any smudging, flaking, or smearing. Plus, it can give you that dramatic, dark lash look without worrying about it running down your face like regular mascara would.
Now for the important part: how to make sure your waterproof mascara lasts as long as possible. First, curl your lashes before applying the mascara to help them hold their shape. Next, apply two coats of mascara, using a zigzag motion to make sure you coat every lash evenly. And be sure to let the first coat dry before applying the second coat to avoid clumping.
When choosing a waterproof mascara, look for one with a formula that won't dry out your lashes or cause them to break. Plus, a mascara with a tapered brush can help you reach those inner and outer corner lashes without making a mess.
So, without further ado, here are my top five picks for the longest-lasting waterproof mascaras out there:
1. Maybelline Great Lash Waterproof MascaraThis classic mascara has been around for decades for a reason – it works! It's affordable, easy to apply, and stays put all day long.
2. Too Faced Better Than Sex Waterproof MascaraThis mascara claims to be waterproof and smudge-proof, and it definitely lives up to those claims. The hourglass-shaped brush helps coat every lash, and the formula won't flake or smudge.
3. Lancome Monsieur Big Waterproof MascaraThis mascara promises up to 24 hours of wear, so you can trust it to stay put through just about anything. Plus, the oversized brush helps give you that full, voluminous lash look.
4. Benefit Cosmetics BADgal BANG! Waterproof MascaraIf you're looking for length and volume, this mascara has got you covered. The thin, elongated brush helps separate and lift your lashes, while the waterproof formula keeps everything in place.
5. Covergirl Lashblast Volume Waterproof MascaraThis mascara has a thick, tapered brush that helps you coat every lash with ease. It's also waterproof and smudge-proof, so you can count on it staying put for hours on end.
Well, there you have it, folks. My top picks for the best waterproof mascaras out there, plus some extra tips for making sure you get the most out of your mascara. Happy mascara-ing!