The matte finish is the hottest makeup trend of the year and I'm here to tell you all about it! When done right, a matte look can bring a glowing, polished, sophisticated vibe – but don't be fooled; it's not as easy to achieve as it looks! You need to use the right products and techniques to land on that perfect canvas. Lucky for you, I'm gonna share all my pro tips with ya! So pull up a chair and let's get started!
Step-by-Step Guide on How to Achieve Matte Finish Makeup
Achieve a matte finish with the right products, techniques and tips. Here's how ya do it! First off, use a primer that'll create a smooth base for your makeup. This'll help prevent shine, creasing and caking.
Next, invest in a good foundation – something with a matte finish and non-comedogenic ingredients like silica and mica. Using a sponge or brush, apply it lightly all over your face, focusing on areas where you need more coverage. For those who aren't into foundation, reach for a nice powder to set your face make-up.
To complete the look, add some colour with matte blush and eyeshadows. It's best to go for long-wearing formulas, so you won't have to worry about touch-ups throughout the day. You can also dab on a bit of contouring powder or bronzer to define your features.
These steps make up the basic recipe for getting a matte finish, but check out the following tips for getting the best results:
When applying product, use a light hand – this'll avoid cakiness. Look for oil-free makeup, too, as these don't clog pores and keep your skin looking fresh. And when it comes to embellishments, skip shimmer and sparkle – they'll only detract from the look. Finally, make sure to set your makeup with a setting spray, which will help lock it in place all day.
Tips for Getting the Best Matte Finish
It can be tricky to get that perfect matte finish. But with a few tips and tricks, you can look like a million bucks in no time! First off, keep it light. If you're piling on the product, you'll end up looking overdone. Go with oil-free formulas—they provide the best coverage without the shine. And stay away from sparkle, glitter, and shimmer since they'll defeat the purpose of matte makeup.
Next, use a primer prior to applying your foundation. Primers go on smoothly and help to create an even base so your makeup will last longer. After foundation, add a dusting of powder with a fluffy brush. This sets the makeup and gives that smooth, velvety matte finish you crave. You can also dab a bit of translucent powder underneath your eyes and on your nose to help reduce shine.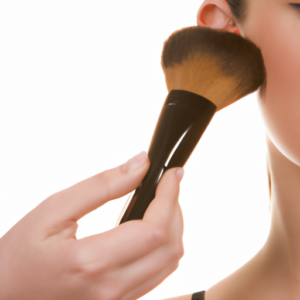 When adding colour, opt for matte blush, bronzer, and eyeshadows. For lips, go with a matte lip crayon or liquid lipstick. These all come in beautiful pigments and last for hours. To keep your look flawless, spritz it with a setting spray for a final touch. Doing this helps everything stay put throughout the day.
So don't stress too much about getting that perfect matte finish—it's totally achievable. With the right products and techniques, you'll be ridin' the matte train in no time!
Conclusion
Alright, so you've made it to the end – pat yourself on the back! In this article, I've outlined the basics of achieving the coveted matte finish makeup. To recap: start with a primer, pick the right foundation, choose an oil-free powder for setting, then add all the colour you want with matte blush, eyeshadows and more. Plus, I gave you some insider tips like using a light touch when applying, avoiding any shimmer, and giving your look a final spray of setting spray. With these simple steps, you'll be looking fly with a flawless matte finish in no time!
FAQs About Matte Makeup
How can I make my face matte finish?
The key to achieving a perfect matte finish with your makeup is to create a smooth, even surface. Start by prepping your skin with a mattifying primer and moisturizer to help absorb any excess oils and create a better base for your makeup. Following this, apply a thin layer of foundation. Use a makeup sponge to blend it in, then finish with a light dusting of translucent powder to help set your foundation.
After your base is complete, you'll want to use matte products to complete the look. Start with a matte bronzer to add definition to the face and contour. If you want to add a bit of color, opt for a matte blush applied in a circular motion and blend it out. Finally, use a matte eyeshadow to define your eyes, and a matte lip color to finish off your look.
For the perfect matte finish, you'll want to keep your makeup setting spray on hand. Spritz your face with the spray to help your makeup stay put and prevent it from sliding off as the day goes on. This will also help keep your makeup looking fresh and give you a flawless, matte finish.
How do you get a matt finish on foundation?
Getting a matte finish on your foundation doesn't have to be a taxing process – it's just a matter of creating an approach that works for you. As with most cosmetic-related tasks, the trick is to have the right tools and techniques at your disposal.
Start by using a primer before you apply your foundation. Primers help smooth out the surface of your skin and fill in any lines or wrinkles, giving you a smoother, even application. I like to use a matte-based primer, like a silicone- or oil-based primer, to get that perfect matte finish.
Next, use a light or medium coverage foundation, instead of a full-coverage foundation. Light or medium-coverage foundations are better for creating a matte finish, as they won't look as heavy on your skin. However, if you still want a bit of coverage, you can layer it with a concealer.
After that, be sure to apply a good setting powder. A setting powder will help to further set your foundation and keep the matte finish. You can also use an oil-absorbing powder to help absorb any excess oils and keep your foundation in place.
Finally, apply some matte bronzer to add a bit of warmth to your look, as this will create a more natural, matte finish. As with any makeup look, be sure to blend, blend, blend!