Cream Blush: Get Glowing Cheeks with Ease!
Hey there! Are you tired of struggling with powder blushes that leave you looking like a cartoon character or disappearing from your face after a few hours? Then it's time to switch to cream blush! This magical product has become my go-to for achieving a soft, natural-looking flush that lasts all day.
Cream blush is a type of blush that comes in a creamy texture instead of a powdered form. It's infused with moisturizing ingredients that help nourish your skin while giving it a beautiful glow.
Not convinced? Let me give you a rundown of the benefits of cream blush, and you'll see why it's the best thing that's happened to my daily makeup routine.
Get the Glow with Cream Blush!
So, you're thinking of trying cream blush? Good for you! Let me tell you, there are many benefits to using cream blush over powder or liquid formulas. For one, cream blush provides a natural-looking glow that really makes your skin look healthy and vibrant. Plus, it's super easy to blend and customize to your preferred level of intensity.
Another huge benefit is the lasting power of cream blush. Unlike a powder blush that might disappear or clump up on your skin after a few hours, cream blushes tend to stick around longer and look more natural all day long. And, if you choose a hydrating formula, you'll even find your skin is moisturized and well-hydrated throughout the day.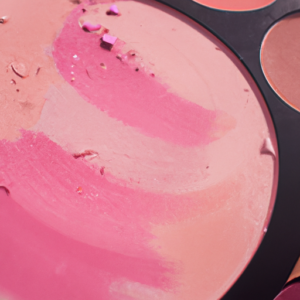 To really make the most of your new cream blush, there are a few tips and tricks you should know. First, always make sure your skin is prepped and ready to go. That means a clean face, with any moisturizer, primer, or foundation that you usually wear. From there, you can either use your fingers or a brush to apply the cream blush – whichever feels most comfortable to you. Just start with a small amount, so you can build up the intensity gradually.
Lastly, to really get that beautiful natural flush, feel free to layer your cream blush over your powder blush, or vice-versa. Doing so will lock in the color and make sure you're looking your best all day long.
In conclusion, cream blush has so many benefits that make it a true star in your makeup collection. If you're ready to get that healthy, radiant glow, give it a try – you won't regret it!
Tips for Applying: Amp Up Your Cream Blush Game
Okay, so you've decided to give cream blush a try. Great choice! It's a versatile makeup staple that can add a natural-looking glow to your face. However, applying it can be tricky, especially if you're new to it. Don't worry, though. I've got some tips for you that will help you achieve that perfect flush.
Prep your skin
Before applying cream blush, make sure your skin is clean and well-hydrated. This will ensure that the blush blends seamlessly into your skin. If your skin is dry, apply moisturizer first. If you have oily skin, use a mattifying primer to control oil production.
Using fingers or a brush
You can apply cream blush with your fingers or a brush. Using your fingers gives you more control over the intensity of the color, but a brush can give you a more even application. If you decide to use a brush, choose a stippling brush with dense bristles.
Start with a small amount
A little goes a long way with cream blush. Start with a small amount, and build up the color gradually. You can always add more if you want a brighter look, but it's easier to add than to remove.
Layer as needed
If you want a more intense look, you can layer cream blush over a powder blush. This will give you a longer-lasting finish, as well. Just make sure to blend the two products together well.
So there you have it – my expert tips for applying cream blush. Give it a try, have fun experimenting, and don't be afraid to make it your own!
4. Let's Get Cheeky: The Bottom Line on Cream Blush
So there you have it folks, cream blush is an absolute game changer for a flawless-looking complexion. From its natural-looking glow to its moisturizing and hydrating properties, cream blush has everything you need to make your cheeks pop.
But applying it correctly is key. Don't forget to prep your skin before applying it with your fingers or a brush. Start with a small amount and build upon it as needed.
If you're still not convinced, head over to Winks Eyelash Boutique where they've laid out the best blush options for all skin types. Trust me, once you've tried cream blush, you won't be able to go back!