Get the Lowdown on Lash Lifts
Hey there, beauty lovers! Are you curious about lash lifts but not sure where to start? Have no fear, because I've got the inside scoop for you. A lash lift is a semi-permanent treatment that lifts and curls your natural lashes, giving them a more dramatic and flattering curve. It's like a perm for your lashes, but without the harsh chemicals and damage.
What's so great about lash lifts? Well, for starters, they can eliminate the need for eyelash curlers and mascara. You'll wake up with fluttery lashes that look lifted and voluminous. Plus, since there's no adhesive or extensions involved, you don't have to worry about the upkeep and cost of regular lash extensions.
Preparing for your Lash Lift: Let's Get My Lashes Flutter-ready!
Alright, so I've decided to go for a lash lift, and I'm pretty excited about it! But before I go ahead with the procedure, there are a few things I need to do to get ready.
Firstly, I need to find the right salon or technician. Since I'm entrusting my lashes to someone else, I want to make sure they're trained and experienced in lash lifts. I found Winks Eyelash Boutique to do my lash lift, and I'm excited to see what they can do.
Next up, I need to make sure my lashes are free from makeup and dirt. I'm going to cleanse them thoroughly with a gentle cleanser and then moisturize them so that they're nourished and hydrated.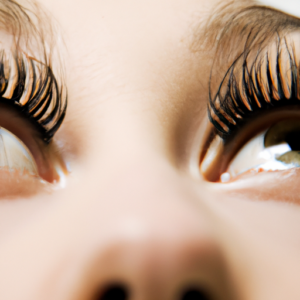 Now that I've taken care of those things, I feel ready for my lash lift. Let's do this!
Here is where I found Winks Eyelash Boutique, and they were more than accommodating through the entire process. I'm so stoked about how my lashes turned out!
Makeup Tips to Take Your Lash Lift to the Next Level
Now that you've got a fresh Lash Lift, it's time to showcase those gorgeous, lifted lashes with some fabulous makeup. Here are a few makeup tips to enhance your Lash Lift:
First, let's talk mascara. If you want to add even more length and volume to your newly lifted lashes, use a lengthening and volumizing mascara. Remember to apply the mascara from the base of the lashes and work your way up to the tips, wiggling the wand as you go. You can also try using a lash comb to separate any clumps.
If you love that winged eyeliner look, enhance your Lash Lift by using a liquid or gel eyeliner. It will create a more dramatic effect while still highlighting your beautiful lashes. Remember to keep a steady hand and start at the inner corner of your eye, moving outward and extending the line a little further than your natural lash line, creating that winged look.
For an extra boost of curl, use an eyelash curler. Make sure to use it before applying mascara and focus on the base of your lashes. If you're using an eyelash curler for the first time, be sure to learn how to use it properly as improper use can lead to breakage and damage.
If you're looking for even more length and drama, why not try false lashes? You can choose from a variety of shapes and lengths and you can even customize them to your desired look. Remember to trim the lashes to fit your eye shape and apply a small amount of eyelash glue to the band before applying them to your natural lash line.
With these makeup tips, you'll be able to rock your fresh Lash Lift with confidence. Experiment with different looks and find what works best for you. Trust me, your lifted lashes will be the envy of everyone!
Conclusion: Nailed That Lash Lift Look!
So that's it, folks! You're now equipped with all the tips and tricks to ensure your lash lift looks great and lasts long. From choosing the right salon to applying makeup that enhances your lashes, we've covered it all.
Remember, your lash lift will only look as good as the effort you put into it. So, take care of your lashes by cleansing and moisturizing them regularly. Also, don't forget to curl your lashes and apply mascara for extra volume and length.
And, if you're feeling adventurous, why not try false lashes for an even more dramatic look?
At the end of the day, a lash lift is a fantastic way to enhance your natural lashes without the commitment of eyelash extensions. With some patience and effort, you're sure to nail that lash lift look!