What's the Deal with Mascara?
Hey, guys! Today, I want to talk about the one makeup product that I can't live without – mascara. Mascara is a product that can transform your whole look in just a few swipes – it's truly magic in a tube! For those of you who are new to the world of makeup, mascara is a cosmetic product that you apply to your eyelashes to darken, thicken, and define them. Sounds simple enough, right? But there's so much more to it than that!
First of all, let's talk about the benefits of wearing mascara. Besides making your eyes look more open and awake, mascara can also enhance your natural beauty, giving you a more polished and put-together look. Plus, if you're someone who doesn't like to wear a lot of makeup, mascara is a great way to add a little oomph to your look without going overboard.
But not all mascaras are created equal. There are several types of mascara on the market, each with their own unique benefits and drawbacks. For example, waterproof mascara is great for summer days at the beach, but can be a pain to remove at night. Volumizing mascara is perfect for those who want thicker, fuller lashes, while lengthening mascara is great for those who want to add a little extra length to their lashes.
So, now that you know a little more about mascara and its benefits, let's dive deeper into how to get the most out of this versatile product!
Types of Mascara: Waterproof vs Non-Waterproof, Volumizing vs Lengthening
Okay, let's talk mascara! There are so many different types out there, it's hard to know which one to choose. One of the main things to consider is whether you want a waterproof or non-waterproof formula. Waterproof mascara is great for situations where you might be sweating or crying, or if you just want your mascara to last all day without smudging. However, it can be harder to remove and can also be more drying for your lashes. Non-waterproof mascara is easier to remove and is generally better for your lashes, but it might not last quite as long and can smudge more easily.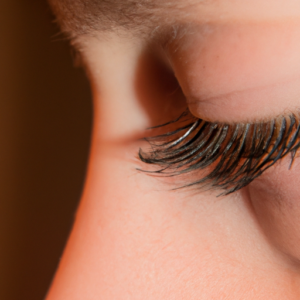 Another thing to consider is whether you want a mascara that volumizes or lengthens your lashes. Volumizing mascara will make your lashes look fuller and thicker, while lengthening mascara will make them look longer and more defined. Some mascaras claim to do both, but it's important to choose one that focuses on the effect that you want most.
Finally, there are also different brush types to consider. Some mascaras have a traditional brush with bristles, while others have a comb or a rubber brush. The brush type can affect how the mascara applies and how much product gets onto your lashes, so it's worth experimenting with different types to find what works best for you.
Why I Swear by Wearing Mascara
Let me tell you, there's nothing like a good coat of mascara to make me feel ready to take on the day. And it's not just about looking good – there are actually tons of benefits to wearing mascara! Here are some of my favourites:
Enhances Your Eyes
Mascara is a game-changer when it comes to making your eyes pop. It draws attention to your eyes and makes them look brighter and more open. Plus, it can help define your eye shape and make your whole face look more symmetrical.
Gives You a Natural Look
Not all mascaras are created equal – some can make your lashes look overdone and clumpy. But when you find the right one, mascara can actually give you a super natural look. By just adding a little bit of length and volume, you can enhance your lashes without looking like you're wearing much makeup at all.
Makes Your Lashes Look Longer and Fuller
This one might seem obvious – of course mascara makes your lashes look longer and fuller! But it's worth noting that some mascaras are better at this than others. If you're looking for serious length and volume, consider a volumizing mascara. If you just want some extra length, try a lengthening mascara. Either way, your lashes will look amazing.
Now that you know all the benefits of wearing mascara, it's time to start applying it like a pro. Keep reading for my tips on how to get the best look possible!
4. How to Apply Mascara: Get Gorgeous Lashes in No Time!
Mascara has been one of my go-to makeup products for years. There's something about having long, full lashes that makes me feel confident and put-together. But let's face it, applying mascara can be tricky. From clumps to smudges, there's a lot that can go wrong. But don't worry! With a few simple steps, you can apply mascara like a pro and get the gorgeous lashes you deserve.
Preparing Your Lashes
Before you start applying mascara, it's important to prepare your lashes. Start by curling them with an eyelash curler. Hold the curler at the base of your lashes and gently clamp down. Hold for a few seconds and release. This will give your lashes a nice lift and make them appear longer.
Next, brush your lashes with a clean spoolie brush. This will remove any dust or debris and separate your lashes, making it easier to apply mascara.
Applying the Mascara
Now it's time to apply mascara! Start by taking your mascara wand and wiping off any excess product on the side of the tube. This will help prevent clumps and make your lashes look more natural.
Place the wand at the base of your lashes and wiggle it back and forth as you work your way up. This will help evenly distribute the product and prevent clumping. Continue applying mascara until you've achieved your desired look.
If you want extra volume, you can apply a second coat of mascara. Just make sure to let the first coat dry before applying the second.
And that's it! With a few simple steps, you can apply mascara like a pro and get the gorgeous lashes you've always wanted. And if you're in need of some more inspiration, check out this article for great tips and tricks on how to look good with just mascara: https://winkseyelashboutique.com/how-to-look-good-with-just-mascara/
Wrap-up: I'm ready to bat my lashes!
Alright, folks, we've covered a lot about mascara today! Let me summarize the benefits of wearing mascara for you: enhanced eyes, a natural look, and longer, fuller lashes. Sounds great, right?
So, how do we apply it? Remember to prepare your lashes by gently curling them and wiping any residue from previous product. Then, starting from the base of your lashes, use an upwards and outwards motion to apply the mascara, layering as needed.
Now, before you go running off to bat those luscious lashes of yours, let's reiterate the main points. Mascara is a must-have in any makeup routine, and it comes in various types such as waterproof or non-waterproof, volumizing or lengthening. When applying mascara, be sure to prepare your lashes and use an upwards and outwards motion for an even, natural look.
Alright, that's a wrap, folks! Time for some bat-worthy lashes!