What's the Deal with Mascara Anyway?
Hey there, beauties! Are you tired of running eyes and smudged makeup? Me too! That's why we're going to dive into the world of mascara – the key to bold and beautiful lashes.
Mascara is a cosmetic product that enhances and defines eyelashes to create a more glamorous look. It's a must-have item in any makeup bag, but with so many types of mascara out there, it can be overwhelming to choose the right one for your needs.
Types of Mascara: Volume, Length, Curl, and Waterproof
Now that we know what mascara is, let's dive into the different types available in the market. First up, we have volumizing mascaras that contain thick and heavier formulas that add fullness to your lashes. If you're looking for longer lashes, lengthening mascaras contain fibers that attach to your lashes to give you that desired length. Curling mascaras work to enhance your lashes' curl by containing polymers that lock the lashes in place. Finally, waterproof mascaras are perfect for those of us that are active or living in humid climates. These mascaras are designed to last longer and stay put, even in water.
Tips to Choose the Right Mascara
Choosing the right mascara can be a real challenge. With so many options, it can be difficult to know which one will work best for your eyes and your lashes. Here are my top tips to help you choose the perfect mascara for you:
Consider Your Eye Shape
The shape of your eyes can affect how your lashes look with certain types of mascara. If you have almond-shaped eyes, you might find that a lengthening mascara will help to elongate your lashes and make your eyes look bigger. If you have round eyes, a volumizing mascara might be a better choice to add fullness and make your eyes look wider. Think about your eye shape and what you want to enhance.
Consider Your Lash Type
Just like eye shape, your lash type can also affect how your mascara applies. If you have naturally curly lashes, a curling mascara might be unnecessary and might actually cause clumping. With straight lashes, however, a curling mascara can help to lift and separate each lash. If you have sparse lashes, you might want to look for a mascara that is designed to add volume. Understanding your lash type can help you choose a mascara that works best for what you have.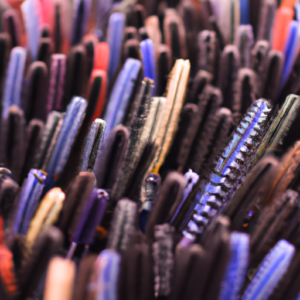 If you're unsure which mascara to choose, take a look at reviews online. Other people's experiences can help you get an idea of how a product works and what to expect. Look for reviews from people with similar eye and lash types to your own.
Remember, there's no one-size-fits-all mascara. What works for someone else might not work for you. But by considering your eye shape, lash type, and reading reviews, you can find a mascara that will enhance your eyes and make you feel confident and beautiful.
My Final Say on Mascara: Get Luscious Lashes with the Right Choice of Mascara
After all the discussions and tips that I have shared with you regarding mascara, I can confidently tell you that mascara is an essential cosmetic product for women. Every woman desires to have a luscious set of lashes that will help her look stunning, and mascara is the perfect product that can make it happen.
Choosing the right mascara for your eye shape and lash type can be a bit daunting, but trust me, it's worth putting in the effort. With the right mascara, you can achieve numerous looks, from natural to dramatic.
To sum up, volumizing mascara is perfect for making your lashes appear fuller and thicker. Lengthening mascara will make your lashes look longer and curvy, whereas curling mascara adds a perfect curl to your lashes. If you are looking for a mascara that can withstand tears and sweat, then you should go for waterproof mascara.
When choosing a mascara, always consider your eye shape and lash type, and read reviews to find out what worked best for other people. As a bonus, check out https://winkseyelashboutique.com/how-to-look-good-with-just-mascara/ to explore other tips and tricks on looking good with just mascara.
To conclude, mascara is a game-changer in the beauty world, and if applied correctly, it can give you the perfect look that you have always desired. So go ahead, choose the right mascara, and get those luscious lashes that will make you look and feel confident.