Hey there! Let's talk about Volumizing Mascara
Are you tired of using regular mascara that just doesn't pack a punch? Then volumizing mascara might just be the thing for you! Volumizing mascara is a type of mascara that gives thicker, fuller, and more dramatic-looking lashes. But before we dive into this, let me give you a quick rundown of what volumizing mascara is and how it works.
Volumizing mascara is formulated with ingredients that add thickness to your lashes. Most volumizing mascaras have a special brush that is designed to coat each lash evenly, separating them to give the illusion of more lashes.
Now that you know what volumizing mascara is, let's talk about the benefits it has to offer.
Why Volumizing Mascara Can Make All the Difference for Your Lash Game
As someone who loves playing with makeup, I can confidently say that a good volumizing mascara can truly elevate any look. Here are a few reasons why:
Firstly, volumizing mascara is specifically formulated to add volume and thickness to your lashes, which can make them appear fuller and more dramatic. This can be especially helpful if you have naturally sparse or short lashes, as it can give the illusion of longer, more luscious lashes without the need for falsies or extensions.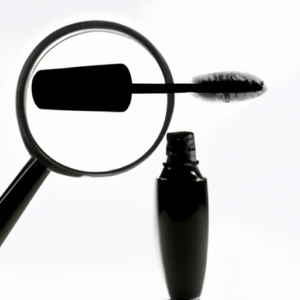 Additionally, many volumizing mascaras are designed to hold a curl, which can help your lashes maintain their shape and lift throughout the day. This can be especially beneficial if you have straight or downward-facing lashes, as it can keep them lifted and fluttery.
Another benefit of volumizing mascara is that it can help define and separate your lashes, making them appear more distinct and visible. This can be especially helpful if you have light-colored or fine lashes that tend to blend together, as it can create a more defined and noticeable effect.
Overall, a good volumizing mascara can be a game-changer for your lash game. By adding volume, thickness, hold, and definition, it can create a more dramatic and eye-catching look that enhances your natural beauty and makes you feel confident and fierce.
How to Pick the Perfect Volumizing Mascara
When it comes to choosing the right volumizing mascara, there are a few things to keep in mind. First and foremost, consider your lash type. Do you have short, sparse lashes or long, thick lashes? This will affect the brush type and formula you should choose. For shorter lashes, go for a tapered wand that will reach every last lash. For longer lashes, choose a brush with densely packed bristles to add volume without clumping.
Another important factor to consider is the formula. Most volumizing mascaras are thick and creamy, but some are formulated to be lighter weight for a more natural look. If you're looking for a dramatic, bold look, go for a heavier formula. If you want a more subtle enhancement, opt for a lighter formula.
Don't forget to pay attention to the color of the mascara as well. Black is the most common color, but some brands offer brown or even colored mascara for a unique look. Consider your eye color and skin tone when choosing a shade.
It's also important to read reviews and do your research before purchasing a new mascara. Look for brands with a reputation for quality and longevity. Additionally, consider the price point and whether it fits within your budget. Remember, a higher price tag doesn't necessarily mean a better product.
Lastly, don't be afraid to try different brands and formulas until you find the perfect volumizing mascara for your lashes. What works for someone else may not work for you, so it's important to experiment and find what works best for your unique lash type and style preferences.
Our Top 5 Picks for Volumizing Mascaras
Hey there, beauty junkies! Ready to amp up your eyelashes and add some volume? Look no further because I'm here to share my top five favorite volumizing mascaras that will give you the lashes of your dreams.
1. Maybelline Volum' Express The Colossal Mascara
This drugstore mascara is a cult favorite for a reason – it's affordable and does the job. The large wand and collagen formula work together to create voluminous lashes that won't flake or smudge. Plus, it's available in both waterproof and washable formulas.
2. Too Faced Better Than Sex Mascara
The provocative name may seem like a gimmick, but this mascara lives up to the hype. The hourglass-shaped brush and volumizing formula give the lashes a dramatic, full look that lasts all day. Plus, the packaging is eye-catching and will look great in your makeup bag.
3. Benefit Cosmetics They're Real! Lengthening & Volumizing Mascara
If you're looking for a mascara that will make your lashes look as long as possible, this is the one for you. The brush has tiny spikes that help separate and lengthen each lash while the formula adds volume and curl. You'll get fluttery, doll-like lashes in no time.
4. Lancome Monsieur Big Mascara
This French mascara is perfect for those who want intense, thick lashes. The oversized brush and volumizing formula work together to create a bold lash look that won't budge. Plus, the cute packaging will make you feel like a fancy Parisian.
5. L'Oreal Paris Voluminous Lash Paradise Mascara
Another affordable option, this mascara has quickly become a favorite among beauty bloggers and makeup artists. The brush is shaped like an hourglass and the formula is infused with nourishing oils that help the lashes stay healthy and hydrated. The result is thick, voluminous lashes that won't clump or flake.
So there you have it – my top five picks for volumizing mascaras. Remember that the key to achieving long, full lashes is to find a formula and a brush that work for you. Happy shopping!
Wrapping It Up: Final Thoughts on Volumizing Mascara
Well, there you have it! After going through the different benefits of volumizing mascara and the top 5 volumizing mascaras you can buy, it's clear that this type of mascara is a makeup bag staple.
When it comes to volumizing mascara there isn't a one-size-fits-all option. It's important to choose a mascara that meets your specific needs. Whether it's the formula, brush or price, there's bound to be a volumizing mascara out there that you'll love.
Remember to read reviews, ask friends their opinions and try out different options until you find one that works for you. And don't be afraid to experiment with layering different mascaras to achieve your desired look.
Overall, volumizing mascara is a great way to add that extra oomph to your lashes and create a dramatic eye look. So go ahead, give volumizing mascara a try and see what all the hype is about!
If you're looking for more expert advice on how to maximize the volume of your lashes, check out this article from Winks Lash Boutique which goes into more detail about the importance of choosing the right mascara and other tips and tricks for voluminous lashes. Click here to read .