Looking for Bombastic Lashes? Get Dope Volume with a Drugstore Mascara!
Yo, looking for a mascara that'll give you some serious volume? Well, let me hip you to the fact that you don't have to shell out major bank on a fancy-shmancy mascara from a high-end boutique. You can find some pretty dope volumizing mascaras right in the drugstore aisle!
Let me break down what a volumizing mascara is for ya. This type of mascara is specifically formulated to make your lashes appear fuller and thicker. Some may have special fibers or waxes to plump up your lashes, while others may have brushes designed to deposit more product onto your lashes.
But why bother searching for the best drugstore volumizing mascara, you ask? Well, for starters, drugstore mascaras are usually a lot cheaper than those fancy brands – so if you find a great one, you could save yourself a pretty penny! Plus, many drugstore brands have stepped up their game recently and are offering mascaras that are just as good – if not better – than more expensive options.
Here's the Scoop on Popular Drugstore Volumizing Mascaras
When it comes to finding the perfect mascara to accentuate your lashes, it can be overwhelming to choose from the plethora of options available in drugstores. Here, I've tried and tested popular volumizing mascaras, so you don't have to waste your money and time.
Maybelline Great Lash Volumizing Mascara
Ah, the iconic green and pink tube that has been a staple in many beauty routines since 1971. As a well-loved product, I had to see if the Maybelline Great Lash Volumizing Mascara lived up to its reputation. The formula is lightweight, which makes it easy to layer and avoid clumps. With just a coat or two, it gave my lashes a natural-looking voluminous boost that lasted throughout the day. However, I wouldn't recommend this if you're looking for dramatic lashes, as it provides a subtle lift.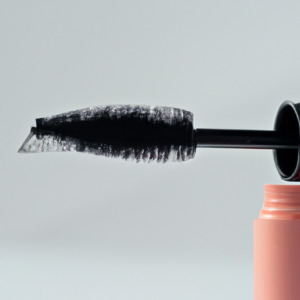 For those in search of a bold and dramatic lash effect, the L'Oréal Paris Voluminous Original Mascara is one to try. The formula is thick but creamy, which allows for a smooth application and buildable coverage. I was impressed by how much volume and length this mascara gave my lashes, without them feeling weighed down or clumpy. However, be careful not to apply too much or rush while applying, as it can get messy.
CoverGirl Total Tease Mascara
With its unique paddle-shaped wand, the CoverGirl Total Tease Mascara aims to separate and fan out lashes for a wispy and fluffy look. While the wand took some getting used to, I was pleased with how nicely it defined my lashes without any clumps. The formula gave me a noticeable boost of volume and held up well without smudging or flaking. However, this mascara might not work well if you have shorter or sparse lashes.
NYX Professional Makeup Worth the Hype Volumizing & Lengthening Mascara
If you crave long, full, and fluttery lashes, the NYX Professional Makeup Worth the Hype Volumizing & Lengthening Mascara might be the one for you. The lightweight, buildable formula gave my lashes a noticeable lift and clump-free separation. The brush is a classic hourglass shape that makes it easy to get into every nook and cranny. However, this mascara takes longer to dry and can require some patience when applying.
Tips for Finding the Right Volumizing Mascara
Hey there, mascara lovers! Looking for the perfect volumizing mascara can be a challenge, but fear not because I'm here to offer some tips that have worked wonders for me.
Consider Your Lash Type
First things first, it's essential to know what type of lashes you have before choosing a volumizing mascara. Are they naturally curly or straight? Sparse or thick? Knowing your lash type helps you pick the right formula and applicator for your lashes. If you have curly lashes, you'll want to look for a voluminous mascara that comes with a curling brush. On the other hand, straight lashes will benefit from a mascara that includes fibers to add volume.
Read Reviews
When it comes to beauty products, no one knows better than the people who've used them. So, my advice is to read up on volumizing mascara reviews about different brands online. Look at what people with the same lash type as yours say about different mascaras. Don't be fooled by the pretty packaging; always base your decisions on reviews from real users like you and me.
Test Products in-Store
Another helpful tip would be to test out different mascaras in-store. This way, you can see how the product looks on your lashes before committing to a full-size tube. I like to apply a few coats of mascara and walk around the store for a bit to see how it feels on my lashes. This also gives me the chance to see whether the mascara smudges or flakes, or if it holds up throughout the day.
Follow these tips, and you'll be sure to find the best volumizing mascara that works for you. And if you want to learn more about how to maximize volume with the right mascara, check out my article on Wink's Lash Boutique. Happy hunting!
Ahoy, Lash Lovers! Time to Flutter Those Beautiful Lashes with Volumizing Mascaras
Wow! I hope you enjoyed the journey of discovering the best drugstore volumizing mascaras with me. I had a blast hunting and testing products, learning new things about volumizing mascaras, and sharing my insights with you. Before we wrap up, let me summarize the key takeaways from our voyage.
Firstly, we explored various popular drugstore volumizing mascaras, including Maybelline Great Lash Volumizing Mascara, L'Oréal Paris Voluminous Original Mascara, CoverGirl Total Tease Mascara, and NYX Professional Makeup Worth the Hype Volumizing & Lengthening Mascara. We reviewed their formulas, brushes, coverage, and prices, and gave our honest opinions about their pros and cons.
Secondly, we offered some tips to help you find the right volumizing mascara for your lash type and preferences. We emphasized the importance of considering your lash health, thickness, length, and sensitivity, and of reading reviews and testing products in-store before buying them.
Finally, let us conclude with the amazing benefits of wearing volumizing mascara. Whether you want to enhance your natural beauty, stand out in a crowd, or boost your confidence, volumizing mascara gives you a bold and glamorous look that lasts all day. You can curl, lengthen, thicken, and define your lashes easily and enjoy the compliments from friends and strangers.
So, lash lovers, are you ready to try out different brands and types of mascaras and discover your new favorites? I hope you are. Remember, there's no one-size-fits-all solution when it comes to volumizing mascara, so keep an open mind and experiment until you find your match made in heaven.