Get the Perfectly Defined Lashes of Your Dreams with These Simple Mascara Tips
Hey there, lash lovers! If you're anything like me, you know that perfectly defined lashes can make all the difference. But with so many mascaras on the market, how do you choose the right one? Fear not, because in this blog post, I'll be sharing my expert tips on how to choose the perfect mascara and how to apply it for the best results.
So, what exactly do I mean by "perfectly defined lashes"? I'm talking about lashes that are separated, lengthened, and lifted, without looking clumpy or weighed down. Achieving this look may seem daunting, but trust me, with the right tools and techniques, you can have the lashes of your dreams in no time.
One of the easiest and most effective ways to achieve perfectly defined lashes is by using mascara. Mascara not only enhances your lashes but also gives them definition, volume, and length. With the right formula and application technique, you can achieve a natural, yet stunning, look that will make your eyes pop.
Factors to Consider When Choosing Mascara: It's More Than Just the Brush!
When it comes to choosing mascara, many people assume that the brush is the most important factor. However, there are several other factors to consider to get perfectly defined lashes. I'm here to share my expert advice on what to look out for when choosing mascara.
Type of Bristles
The type of bristles on your mascara wand can make a huge difference in the final result. Stiffer bristles are great for separating and defining each individual lash, while softer bristles tend to add volume. If you're after perfectly defined lashes, look for a mascara wand with stiff bristles that can reach every lash.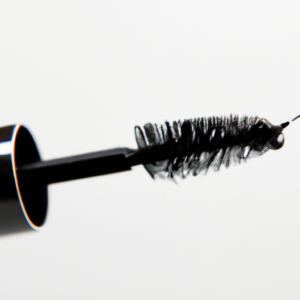 The mascara formula also has a big impact on your lashes. Some formulas are designed to lengthen, while others give volume or curl. To achieve perfectly defined lashes, look for a mascara with a lengthening formula that won't weigh down your lashes or make them look clumpy.
Brush Shape
The shape of your mascara brush is just as important as the type of bristles. A curved brush is great for adding curl to your lashes, while a straight brush is ideal for creating length. However, if you want perfectly defined lashes, look for a skinny brush with a pointed tip. This will allow you to reach every corner and create a precise, defined look.
By considering these factors when choosing your mascara, you'll be one step closer to achieving perfectly defined lashes.
Get Flawless Lashes with These Popular Mascaras
After diligent research and countless trials and errors, I've found the most popular and effective mascaras for achieving perfectly defined lashes. No more clumps or smudging, just flawless definition that lasts all day!
Maybelline Great Lash
This classic mascara has been a cult favorite for over 40 years, and for good reason. Its small bristle brush allows for precision application, and its formula thickens and lengthens lashes without becoming clumpy or flaky.
Benefit Cosmetics Roller Lash
This mascara's unique brush shape is curved to lift and curl lashes for a wide-eyed look. Its formula contains Provitamin B5 and Serin, which condition and strengthen lashes over time. Roller Lash is also buildable, so you can achieve a natural look or add layers for more drama.
Lancôme Hypnose Drama
This mascara's "S" shaped brush coats every lash for voluminous, dramatic results. Its formula contains pro-vitamin B5 and Nylon Fibers, which add length and thickness without clumping. Hypnose Drama is perfect for a bold, smoky eye or for those with sparse lashes.
With these top three mascaras, you'll never have to compromise on your lashes again. Say goodbye to flakiness, clumps, and smudging, and hello to perfectly defined lashes that are sure to turn heads!
Get Lash Perfection: My Secrets to Applying Mascara for Perfectly Defined Lashes
As someone who has experimented with countless mascaras over the years, I can confidently say that mastering the art of applying mascara makes all the difference in achieving perfectly defined lashes.
The following tips and tricks have helped me achieve lash perfection:
Step 1: Start by curling your lashes with an eyelash curler. This will help your lashes stand out and appear longer.
Step 2: When applying mascara, start by wiggling the wand at the base of your lashes, then slowly work your way towards the tips. This ensures that each lash is coated with mascara, giving them a full and voluminous look.
Step 3: Use multiple coats of mascara to build up your lashes. However, make sure to do so while the previous coat is still damp to avoid clumps.
Step 4: To apply mascara to your bottom lashes, use a small brush tip or turn the wand vertically and lightly brush the mascara on.
Tip: If you find that you always get mascara on your lids, try placing a business card or spoon behind your lashes to act as a barrier.
Following these steps has helped me achieve the perfect fluttery and defined look that I always aim for. Practice makes perfect, so don't be afraid to experiment and find what works best for you!
5. Conclusion: Time to Flaunt Your Perfectly Defined Lashes!
Well, there you have it! You are now armed with all the information you need to achieve those perfectly defined lashes that you've been dreaming of. By choosing the right mascara based on your particular needs, understanding how to apply it correctly, and taking a little extra time to curl your lashes, you'll have everyone wondering if those are your natural lashes or not!Remember, just like our friends over at Wink's Eyelash Boutique suggest, sometimes clumps can happen! But don't worry, you can easily fix the problem by following these simple tips.So, what are you waiting for? Go ahead and experiment with different mascaras to find the perfect one for you. And once you've found your HG mascara, just follow our simple steps to make sure your lashes look gorgeous all the time. Happy fluttering your perfectly defined lashes!
If you want to keep learning about achieving the best lashes, head over to Wink's Eyelash Boutique to learn how to effectively fix clumps on your lashes.