Ahhh, mascara. That little tube of magic that can transform your look in moments. Whether you're looking for an ultra-dramatic transformation or just some subtle definition and volume, mascara is the perfect way to get there. But it can be tricky to know where to start, what types of mascara are best for different kinds of looks, and how to apply it for maximum impact.
Not to worry – I've got ya covered. In this article, we'll explore all things related to mascara: the different types available, what ingredients give it volume, recommendations on the best mascaras, and tips on how to apply it. Buckle up – let's dive into the world of mascara!
What Gives Mascara Volume?
Ah, mascara! It's a magical little makeup tool that can dramatically transform your look. And out of all the things you can use mascara for, volume is certainly one of the most sought-after effects. But what exactly gives mascara volume? To find out the answer, let's take a closer look at its ingredients and brushes.
First up, we have the actual formula of a mascara. Many mascaras contain waxes like beeswax or carnauba wax. These waxes help to coat your eyelashes, making them look thicker and fuller. Some mascaras also include oils, such as mineral oil or castor oil. Oils keep lashes hydrated and help enhance their overall texture. Finally, there are wax polymers like PVP (polyvinylpyrrolidone) which create a film that adheres to each lash, helping to create separate, glossy lashes.
Now let's look at the brushes! Your brush selection can make a huge difference when it comes to achieving volume with mascara. Brushes come in a variety of shapes and sizes, but generally speaking, the more bristles your brush has, the better for volume. A great tip for achieving maximum volume is to use a brush with curved bristles that can grip onto each lash and coat them evenly with formula. This will help to separate and define each lash, giving you an instantly voluminous look.
Best Mascaras for Volume
If you're like me and can't seem to get enough volume into your lashes, finding the right mascara is key. In this section, I'm gonna break down what to look for in a mascara that truly gives you those voluminous lashes you've been dreaming about.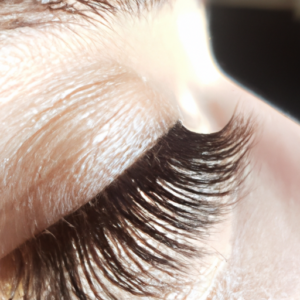 When shopping for a great volumizing mascara, start by looking at the ingredients. Some mascaras are formulated with thickening agents like beeswax, carnauba wax and clay, which can really help add thickness and lift to your lashes. Next, pay attention to the brush type – certain brushes are better than others for achieving maximum volume. Look for a brush that has lots of bristles, especially near the tip to really boost your lash length and volume.
But just because something's labeled "volumizing" doesn't mean it will do the trick. In my experience, high-end mascaras offer the best results, although they are often pricier. My all-time favorite volumizers are Lancome Monsieur Big, Marc Jacobs Velvet Noir and Too Faced Better Than Sex. But don't worry – drugstore brands have also come up with some amazing, volumizing formulas too. Try L'Oreal Voluminous Original, Maybelline Lash Sensational and Covergirl Flourishes waterproof mascara.
How to Apply Mascara for Maximum Volume
Now that you know what gives mascara volume and which mascaras are best for achieving maximum volume, it's time to learn how to apply your mascara. Before you start applying, make sure your lashes are clean and free of any other makeup – this will help the product adhere better.
Start at the base of your lashes, wiggling the mascara wand back and forth as you move up towards the tips of your lashes. This will help the formula evenly coat each lash while also giving them great definition. It can be tempting to put a few extra coats on the outer corners of your eyes, but this will only weigh down your lashes and give them a spider-like appearance.
Once you've added your desired amount of product on each lash, give them one final curl by using a clean eyelash curler. This will help keep the volume in place and amp up the drama! To finish off the look, grab a spoolie brush and comb through your lashes. Doing so will separate the hairs, helping to reduce any clumps.
Lastly, if you want to take your eye makeup look one step further, consider adding some individual false eyelashes. Not only do these provide instant volume, but they'll also create beautiful length and definition. With just a few simple steps, you'll have voluminous, beautiful lashes every single time!
Conclusion
Let's be real, ladies: getting just the right amount of volume with your mascara can be a challenge. But don't despair – it can definitely be done if you know what ingredients to look for and how to apply it. The perfect mixture of nourishing ingredients, like beeswax and vitamin E, will give you the maximum volume and definition you're looking for. Also, when it comes to brushes and applicators, you want something that will reach all of your lashes and not clump them. A lot of drugstore mascaras actually have really good formulas, so there's no need to break the bank on pricey high-end goods.
Finally, and most importantly, take your time when applying the mascara. Give each lash ample time to dry and build up before going in again. I'd say one coat of mascara is good, but two might just take your look to the next level!
So remember: when it comes to volumizing your lashes, there's no need to despair! With the right ingredients, proper application, and maybe even a little trial and error, you can easily get the results you want.
FAQs About Mascara Volume
Which mascara adds volume to our eyelashes?
I've tried out a bunch of mascaras, and there's one that really stands out, in my opinion. It's Maybelline's Great Lash Lots of Lashes Mascara. It's got a unique formula that really boosts your natural lashes, giving you volume without clumps or smudges. Plus, it's super affordable, so you don't have to break the bank to get it.
The wand is an important factor in getting the most volumized look. And, the Lots of Lashes wand is super precise–it reaches even the tiniest of lashes, so you get an even, ultra-volumized look. Plus, it features the classic Maybelline Great Lash formula that you know and love, so you get the lush, conditioned volume you're after.
In short, if you're looking for volume, Maybelline's Great Lash Lots of Lashes Mascara is a must-have. It's affordable, precise and effective. Give it a go and you won't be disappointed!
What is the number 1 best mascara?
I'm an expert in mascara, and if you're looking for the one that will give you the most volume, then I'm here to tell you that the number one best mascara out there is L'Oréal Paris Voluminous Lash Paradise Mascara. With its unique wavy-bristled brush, it delivers voluminous, full, and defined lashes in just one coat. Plus, it's super easy to use, with a luxuriously creamy and smooth formula that coats every lash evenly. And no clumping here! I mean, it's not just me who instantly fall in love with its intense volume and color – the over 15K reviews gave it a 4.4 stars out of 5.
But that's not all: It's also affordable, so no matter what your budget is, you can still get the gorgeous lashes you've been dreaming of. Plus, it comes in two colors – Blackest Black and Waterproof Black, so you can choose the one that best fits your needs. So, if you want to show off your voluminous and fabulous lashes, just go for it and buy the L'Oréal Paris Voluminous Lash Paradise Mascara – you won't regret it!
What is the best mascara to lengthen and thicken lashes?
As someone who knows a thing or two about makeup, I'd have to say the Maybelline Volum' Express Colossal mascara is the best choice if you're looking to intensify and thicken your lashes. Not only will it lengthen and add volume, but it also provides super-rich color and a dramatic look. It's a great choice if you're looking to make a statement. Plus, it's easy to remove and won't clump up or flake off throughout the day. All in all, it's the perfect mascara for someone who wants the full package!