Let's Get Familiar with Those Individual Cluster Eyelashes!
Hey there, lovely ladies! I am just thrilled to bits to share my knowledge with you about individual cluster eyelashes. If you're like me, you love fluttering those lashes and adding a little extra oomph to your look. And what better way to do that than with individual cluster eyelashes? They're so versatile and allow for customized volume and length to make your eyes pop. But before we dive into the how-to's, let's define exactly what we're working with.
Individual cluster eyelashes are essentially small sections of false eyelashes that can be applied to your natural lashes. Unlike strip lashes that adhere to your eyelid, these can be placed in various arrangements throughout your lash line for an added touch of glam. They come in various materials, lengths, and thicknesses, so whether you're dressing up for a night out or just adding a little something extra to your everyday look, there's something for everyone.
I'm Ready to Pimp My Lashes: Prepping for Individual Cluster Eyelashes
Once you have decided to pimp your lashes with individual cluster eyelashes, the next step is to prepare for this exciting and transformative beauty procedure. Preparing for the application of individual cluster eyelashes requires attention to detail and a little bit of patience. Here are some tips to help you prepare:
Gather Supplies
To ensure a smooth application process, it is essential to gather all the necessary supplies beforehand. You will need individual cluster eyelashes, lash adhesive, tweezers, a lash curler, and scissors. You may also want to have a clean cotton swab and micellar water on hand to help with potential clean-up.
Prepare Eyes and Lashes
To ensure that the individual cluster eyelashes adhere properly and last long, it's essential to cleanse your face and remove all makeup from your eyes and lashes. Oil-based makeup removers should be avoided because they can break down the eyelash adhesive and cause the eyelashes to come off prematurely. Use a gentle cleanser to make sure there's no remaining dirt, oil, or previous mascara that can interfere with the adhesion process.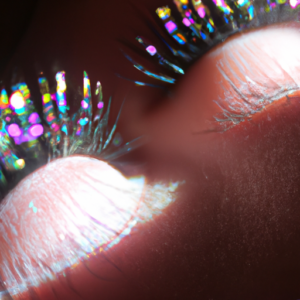 After cleansing, dry your lashes and eyelid carefully. If you have oily skin that can interfere with the adhesive, use a mild powder to create a base primer.
Pro-tip: If you have sparse, thin lashes, consider applying a thin layer of mascara to your lashes so that they match the volume of the individual cluster eyelashes once applied.
Get Ready to Apply Your Clusters!
Alright, here's where the magic happens! First, I recommend starting with the outer corner of your eye and working your way inwards. This helps prevent any mishaps from occurring too close to the inner corner, which can be a bit tricky to navigate.
Next, take your tweezers and carefully remove one cluster from the tray. Hold it between your thumb and forefinger and dip the base (the part with the adhesive) in your glue. Be conservative with your glue here – a little goes a long way.
Place the cluster as close to your natural lash line as possible, and gently press it down with your tweezers. Repeat this process for as many clusters as you want – I usually like to do three or four for a bit of extra oomph.
One thing I've learned along the way is that it's important to vary the direction of the clusters as you place them. This helps create a more natural look and prevents them from all pointing in the same direction.
After you've applied your clusters, give them a moment to dry. While you're waiting, you can go ahead and apply your eyeliner if desired – this will help blend the clusters in with your natural lashes. Once they're dry, you can curl them with a lash curler to really open up the eye.
And that's it – you're ready to dazzle with your new individual cluster lashes!
Finishing Touches: Perking Up Your Individual Cluster Eyelashes
Alright, your individual cluster eyelashes are good to go, but there's no harm in giving them a little extra TLC. Here are the finishing touches I swear by:
Tweezers
Using tweezers can really make a difference in separating individual lashes and ensuring they don't stick together. I recommend using a pointed pair to get those hard-to-reach lashes.
Lash Curler
For an added touch of glamour, use a lash curler to give your lashes a little lift. Just make sure to curl them before applying any mascara or they might get damaged.
Don't Overdo It
Remember, less is more when it comes to individual cluster eyelashes. Don't go too heavy on the mascara or other eye makeup, as this can weigh down your lashes and cause them to fall out.
Sleeping Habits
If you're a side or stomach sleeper, try sleeping on your back, as this can help prevent your lashes from getting crumpled overnight.
Hydration
Keep your lashes (and the rest of your body) hydrated by drinking lots of water. This can help prevent dryness and brittleness, which can lead to breakage.
Remember, taking care of your individual cluster eyelashes can help them last longer and look better. Just a few extra steps can make all the difference!
Removing My Individual Cluster Eyelashes: My Tips and Tricks
So, you've rocked your individual cluster eyelashes for a while now, and it's time to say goodbye. Removing them can be tricky, but don't worry! I've got some tips and tricks that have worked for me.
First things first: don't pull them off. You risk damaging your natural lashes! Instead, use an oil-based makeup remover to loosen the glue. I use coconut oil, which is gentle and works magic.
Next, be patient. Instead of pulling, gently wiggle the clusters back and forth to loosen them from your lashes. After a bit of gentle wiggling, you'll notice them starting to lift away.
If you're struggling to remove a cluster, don't panic. Use tweezers to gently separate them from your natural lashes. But, be careful not to pull your natural lashes!
Once all the clusters are out, it's time to give your natural lashes some love. Use a lash serum to help them recover, as the glue used for clusters can be quite harsh.
And there you have it, my tips and tricks for removing individual cluster eyelashes! Remember: don't pull, be patient, and show your natural lashes some love.
Conclusion: That's a Wrap!
Well folks, we've made it to the end of our journey. I hope you feel confident and excited to try out individual cluster eyelashes on yourself or your clients. Remember, preparation is key, so be sure to gather all the necessary supplies and prep the eyes and lashes before beginning. When it comes to application, take your time and follow the step by step guide provided. Remember, practice makes perfect so don't get discouraged if it doesn't come out perfect on the first try. Once you've applied the lashes, it's time for those finishing touches. Using tweezers to separate and adjust any clumps can make a huge difference in the overall look of the lashes. And don't forget to use a lash curler to really make them pop! When it comes to removal, be gentle and use the tips provided to avoid damaging your natural lashes. Overall, individual cluster eyelashes can give you the bold and dramatic look you desire. With a little patience and practice, it's totally doable on your own. So go ahead and give it a try!
Applying Eyelashes FAQ
How are cluster lashes applied?
Alrighty, so let me walk you through how I apply individual cluster eyelashes! First things first, make sure your lashes are clean and free of any old glue. Then, using a pair of tweezers, gently grip a cluster of lashes by the base. I start by applying the clusters on both the outer and inner corners of my eyes, as this tends to give a more natural look. Next, I dip the very tip of the cluster into some lash glue (I like using the Ardell lash glue) and then carefully place it on top of my natural lash line. I like to hold the cluster in place for about 10-15 seconds to make sure it adheres properly. I continue to do this, working my way towards the middle of my lash line. It's important to make sure the clusters aren't too close together, otherwise, they will look too heavy and unnatural. At this point, I'll sometimes go in with some individual lashes and place them in gaps between the clusters to create a more seamless look. Once all the clusters (and any individual lashes) are in place, I like to use a spoolie to gently comb through them and make sure they're all pointing in the same direction. And voilà! You now have some beautiful individual cluster lashes. Keep in mind that it may take a bit of practice to get the hang of it, but once you do, it's a total game-changer.
Can I apply cluster lashes on myself?
Absolutely! Applying individual cluster eyelashes may seem daunting, but with some practice and patience, you can achieve a flawless lash look on yourself in no time. First, gather all the necessary tools you'll need, such as a lash adhesive, tweezers, scissors, and, of course, the individual lash clusters. Begin by selecting the appropriate length and thickness of lashes that suit your eye shape and desired look. Using the tweezers, gently lift the lash cluster from its packaging and dip the end in the glue. Next, position the cluster near the base of your natural lash, using the tweezers or your fingers to hold it in place for a few seconds until the glue sets. Repeat this process until you achieve your desired look, making sure to space the lashes evenly and avoiding overloading any one spot. Remember to be patient, as it may take some time to get the hang of it, but with perseverance, you'll be able to create a professional-looking lash look in no time. With these simple steps, soon you'll be amazed at how easy it can be to apply individual cluster eyelashes on yourself!
What is the best glue for eyelash clusters?
Okay, so let me tell you how I apply individual cluster eyelashes – it's actually not as complicated as it sounds! First, I prep my natural lashes by curling them and applying mascara. Then, I pick up a cluster lash with a pair of tweezers and dip the end in a small amount of glue. I wait a few seconds for the glue to get tacky before carefully placing the cluster on top of my natural lashes, as close to the lash line as possible. I gently press down on the cluster with the tweezers to secure it in place, and repeat this process until I've achieved the desired level of fullness. It's important to let the lashes dry completely before opening your eyes to avoid any mishaps!Now, as for the best glue for eyelash clusters, I personally love using individual lash adhesive. It's strong enough to hold the clusters in place all day, but gentle enough to not damage my natural lashes. However, there are a few other options you could consider depending on your preference – some people swear by latex-based glues, while others prefer clear or black lash adhesive. Just make sure to choose a high-quality and reputable brand, as not all glues are created equal when it comes to safety and effectiveness. And always do a patch test before using any new lash glue to avoid any allergic reactions or irritation!Overall, applying individual cluster eyelashes does require a bit of practice and patience, but with the right techniques and tools, anyone can achieve a stunning, natural-looking lash look. Don't be afraid to experiment with different styles and lengths to find what works best for you, and remember to always prioritize lash health and safety above all else. Who knows – you might just become a lash expert in no time!