Waterproof Mascara: Bringing Out the Bold in Your Lashes
Hey guys! Are you tired of your mascara running down your face when you cry or sweat? Well, look no further because waterproof mascara has got you covered!
Waterproof mascara is a type of mascara that is designed to be water-resistant. It's perfect for those days when you want your lashes to look great without worrying about smudging. The best part? You don't have to sacrifice your bold lash look for waterproof capabilities!
Don't believe me? Let's dive into the benefits of wearing waterproof mascara and how to choose the right product for you.
What to Keep in Mind When Choosing Waterproof Mascara
Looking for a reliable waterproof mascara can be overwhelming, considering the wide range of products available on the market. Before you make a purchase, there are certain factors you should consider that will help you narrow down your options and choose the best one for you.
Product Type
One of the main things you should consider is the type of waterproof mascara you want, as there are different formulas to choose from. You can choose between liquid, cream or wax-based formulas. Liquid mascaras are more common and come with a wand applicator. Their thinner consistency makes them easy to apply and perfect for those with short and light lashes. Cream and wax-based mascaras, on the other hand, have a thicker formula and are great for achieving a dramatic look while providing volume and definition to the lashes.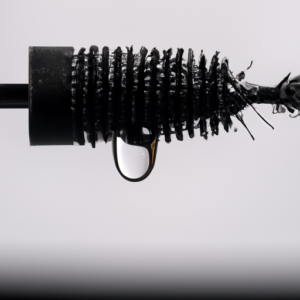 It's important to know what ingredients are used in the mascara you're considering. Waterproof mascaras tend to be formulated with ingredients like beeswax and silicone, which make them resistant to water. However, some people may be allergic to certain ingredients, so make sure to check the label before purchasing.
Price Range
The price of a waterproof mascara can vary depending on the brand and quality of ingredients used. While there are affordable options available, it's important to keep in mind that cheaper mascaras may not provide long-lasting results and could lead to smudging or flaking throughout the day. On the other hand, high-end brands may offer longer-lasting results and a better application experience.
Considering the product type, ingredients, and price range when choosing a waterproof mascara will help you choose the product that meets your needs and budget.
Unleashing the Best Waterproof Mascaras Available: Top-Rated Picks
I am here to share my expertise with you on the best waterproof mascaras available in the market. From dramatic lengthening and volumizing options to gentle and hydrating formulas, I've got you covered with my top-rated picks. You deserve mascara that will withstand any situation while still making your eyes pop – and these mascaras deliver just that.
Maybelline New York Snapscara Mascara
If lengthy and luscious lashes are what you desire, the Maybelline New York Snapscara Mascara is my absolute go-to. The lightweight gel formula doesn't clump or smudge, and the wand is uniquely bendable, making it easy to apply to every lash root-to-tip. Whether you're hitting the beach or sweating up a storm, this mascara is guaranteed to last all day without leaving you with raccoon eyes.
CoverGirl Exhibitionist Mascara
If extreme volume and an overall bold mascara look is your goal, you'll love the CoverGirl Exhibitionist Mascara. This mascara's hourglass-shaped brush coats each lash from root to tip with intense black pigments. The formula is smudge-proof and water-resistant, so you can rock a dramatic lash all day long without worrying about smearing or flaking.
L'Oréal Paris Voluminous Lash Paradise Mascara
Want voluminous and long lashes without feeling like you're wearing tons of product? The L'Oréal Paris Voluminous Lash Paradise Mascara has got you covered. The soft brush applicator evenly distributes pigment, while the formula nourishes lashes with castor oil to prevent breakage. This mascara is a cult favorite because of its effortless, beautiful effect.
Essence Get Big Lashes Mascara
Looking for the perfect budget-friendly option that still delivers stunning volume? Turn to Essence Get Big Lashes Mascara. The brush is huge, helping to coat each lash in product from root-to-tip. The formula is waterproof and smudge-proof, ensuring longevity during even the most poolside-packed day.
Now that you know my top-rated waterproof mascaras, your search for a dependable and long-lasting mascara is over. No matter the type of volume, length or formula you're looking for, these mascaras are sure to help you achieve your ideal lash look.
Get Yourself Ready: How I Apply My Waterproof Mascara
Applying waterproof mascara requires a little bit of patience and technique to make sure it stays on all day. Here's how I do it:
Prepare your eyelashes by giving them a good curl using an eyelash curler. This will help open up your eyes and make them appear more awake.

Apply a thin layer of translucent powder on your eyelashes, which can help absorb the oil and keep the mascara from smudging. Let the powder sit for a few seconds before applying the mascara.

Open your mascara tube and remove the wand. Make sure not to pump the wand in and out of the tube, as that will introduce air and dry out the mascara faster.

Starting at the base of your lashes, gently wiggle the wand back and forth while moving towards the tips. Repeat this process until your lashes are coated with the amount of mascara that you want.

Use an eyelash comb or a clean spoolie brush to separate any clumps and evenly distribute the mascara. This will also give your lashes a feathery, natural look.

If you want to add more volume, wait a few seconds and then repeat steps 4-5.

Finish off your look by removing any smudges or mistakes with a pointed cotton swab dipped in makeup remover.
Remember not to rub your eyes throughout the day, and keep oil-based products away from your eyes to keep your mascara looking fresh. With these tips and a little bit of practice, you'll be confident and ready to face any rainy day or emotional moment.
Conclusion: Summing It All Up!
Well, that's it folks! We've learned so much about waterproof mascara, including what it is and why it's beneficial, how to choose the right one, and which ones are the best on the market. Remember, when selecting a waterproof mascara, factors such as product type, ingredients used, and price range should be considered. And don't forget to always read reviews from fellow makeup enthusiasts to help guide your decision.
Speaking of decision-making, my personal recommendation for the best waterproof mascara is [insert product name and link to Winks Eyelash Boutique website]. Not only did it provide unbeatable staying power during my underwater adventures, but it also enhanced my lashes to a whole new level, creating a voluminous and dramatic look.
Now that you know how to choose the perfect waterproof mascara and how to apply it like a pro, it's time to hit the beach, pool, or any other water activity with complete confidence that your mascara will stay in place without smudging or flaking.
So go ahead, put on your favorite bikini and dive into the water, all while looking your best with your trusted waterproof mascara – you won't regret it!