Hello there! You're probably wondering what natural-looking makeup is all about. Well, it's exactly what it says on the tin: makeup that looks like you weren't wearing any makeup at all. This kind of look is becoming increasingly popular because you can achieve a subtle and polished look without the time investment of going full glam. Natural-looking makeup can help create the illusion of a more even skin tone and texture, and it can disguise minor blemishes and imperfections in a very natural way.
Benefits of Natural-Looking Makeup
Whether you're hitting up a formal event or just trying to look your best for an everyday outing, the benefits of natural-looking makeup are well worth considering. Not only does it allow you to show off your natural beauty, but it also has many other potential advantages. From enhancing your confidence to helping you look younger and refreshed, here are some of the top reasons why you should consider taking the au naturel approach.
Firstly, if you're aiming to look classy and polished without going overboard, natural-looking makeup will do the trick. You won't need to worry about your foundation being too heavy or your blush looking garish – subtle shades and soft tones can make all the difference. Your features will be enhanced, but still appear natural – perfect for a night out or job interview.
Another great advantage of natural-looking makeup is that it's much easier to apply than over-the-top cosmetics. As there are fewer layers and colors, it cuts down on the amount of time you spend in front of the mirror. Plus, it doesn't require as much touch-ups throughout the day. If you don't have a lot of experience with makeup, go easy on yourself – natural-looking products are much easier to work with.
Since natural-looking makeup focuses on subtlety, it also allows you to feel more confident. Instead of drawing attention to your flaws or hiding behind too much product, you can let your true beauty shine through. It may help boost your self-esteem – because let's face it, nothing looks better than your own skin!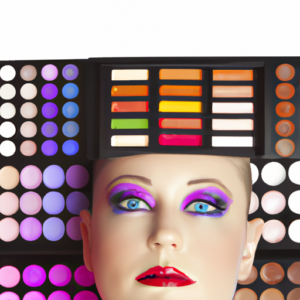 Lastly, swapping statement eyeshadow and bright blush for soft colors and sheer formulas will give your complexion a youthful glow. Your features will look fresh and vibrant, without the need for complex techniques or intense pigments. If you want to showcase your natural beauty while still looking put together, then natural-looking makeup should be at the top of your list.
Top Makeup Products for a Natural-Looking Finish
Are you looking to achieve that perfect, natural-looking makeup look? With so many products on the market, it can be hard to decide which ones to invest in. Don't worry – we've got your back! Here are some of our favorite products for achieving an effortless, natural finish.
Foundation: Foundation is key when it comes to natural-looking makeup. Look for a lightweight formula that offers sheer coverage and blends effortlessly into the skin. We recommend trying a water based foundation, like Maybelline's Dream Fresh BB Cream, to achieve an airy, natural glow.
Concealer: Concealer is a great way to cover up any imperfections on the skin without caking on too much product. Choose one with full coverage that has a matte finish – it will look more natural and won't settle into fine lines. Try NYX's HD Photogenic concealer – it'll leave you looking picture perfect!
Blush: Don't go too heavy or too strong with blush. For a natural look, use a subtle pink or peach tone and blend it in lightly with a small brush or your fingertips. Our top pick is Benefit's Rockateur blusher, which is designed specially to give your face a bit of color without being obvious.
Highlighter: A good highlighting product can help to add dimension to your face and make you look more awake. Keep it subtle though, by using a champagne-colored highlighter and holding off from applying it to overly oilier parts of the face. Nars' Copacabana Illuminator is great for a subtle yet effective highlight.
Eyeshadow: Eyeshadows are a great way to enhance your eyes without going too bold. Choose a natural palette such as neutrals like tans and browns. An all-in-one palette like Stila's In The Moment mix is a great option to make sure you have all the tones you need to build up a subtle eye look.
Mascara: When it comes to mascara, choose a waterproof formula that will hold your lashes in place all day long. Go easy on the application and concentrate on feathering out the ends of the lashes to give them a more natural, softer look. Try L'Oréal Paris' Voluminous Lash Paradise Mascara – it's one of the best loved mascaras on the market.
Lipstick: To complete a natural makeup look, apply a subtle lipstick. Avoid bright colors, and opt instead for nudes, pinks and peaches. Mac's Matte Lipstick in "Velvet Teddy" is perfect for a feminine, natural lip.
Tips and Tricks for Applying Natural-Looking Makeup
Get ready to up your makeup game, 'cause I'm about to share some tips and tricks that'll have you rocking a natural-looking glow in no time. I'm talking foolproof techniques for foundation, concealer, blush, highlighter, eyeshadow, mascara, and lipstick…let's do this!
It all starts with a good base. To ensure flawless coverage, choose the right foundation for your unique skin type. Use light, dabbing motions when applying, and blend out towards your hairline (and don't forget to blend down your neck!). For added coverage, try layering concealer over problem areas like dark circles and redness.
Now it's time to give your face some life! A subtle wash of pinky-peach blush is perfect for showing off your natural beauty. Instead of overloading your brush with product, tap off excess powder so you can build color slowly and naturally. Bonus points if you then use your ring finger to warm and diffuse the color onto your cheeks.
Highlighting and contouring will help define features like cheekbones and jawlines without looking caked-on. Apply a sheer shimmer in the inner corners of your eyes, along your brow bone, and down the bridge of your nose. Then, use a bronzer or contour powder to shape your face and add definition.
Eyes are always captivating when they look natural. Start by adding a wash of taupe or earthy-green eyeshadow across your lids. It'll suit most eye colors and will make them pop. Finish off with two coats of mascara, coating from the middle of the lashes all the way to the tips.
Finally, go for a nude lip that mimics your natural lip color. Use a lip pencil and line the outside, remembering to keep it soft so it doesn't look harsh. Then, use lipstick or gloss and fill it in – remembering to keep it light and blend well.
Now you've got the tools to master natural-looking makeup! Trust me: take these tips and tricks into account and you'll be radiating all day, every day.
Conclusion
Achieving natural-looking makeup isn't as complicated as it might seem; by using the right products, tips, and tricks, you can create a look that feels fresh, beautiful, and totally effortless. Foundation and concealer are two of the most important steps for creating an even base for your makeup, and then blush, highlighter, eyeshadow, mascara, and lipstick are all excellent choices for finishing touches. You can also use various techniques for applying your makeup, such as blending and feathering, to ensure your overall look remains soft and subtle. All in all, mastering the art of natural-looking makeup is super easy and definitely worth the time and effort!
FAQs on Natural Makeup
How do I make my makeup look flawless naturally?
If your goal is to get that perfect, natural-looking finish, then you're in luck! I'm here to provide you with the essential makeup products that will help you achieve that effortless, everyday look. First and foremost, invest in a good foundation. It's the base of your look, and with the right formula, it can provide you with a smooth canvas to work with. Second, to ensure your foundation looks natural, opt for a lightweight, sheer coverage concealer, and set it with a translucent powder. Lastly, use a subtle bronzer and blush to give your complexion a bit of a healthy glow. For added style, finish off your look with a neutral, matte eyeshadow and a coat of mascara.
No matter what season it is or what look you're going for, embracing your natural beauty is always in style! To do this, start by taking great care of your skin. A consistent skincare routine will ensure that your makeup looks its best. Don't forget to exfoliate and moisturize your skin. Also, remember to use primers, like a smoothing or mattifying one, to help your makeup stay in place a little longer. With these simple tips, your natural beauty will effortlessly shine through.
What makes makeup look natural shiny?
When it comes to creating a natural, glowing look, makeup can be your best friend. You don't have to go overboard on the product, but there are a few key products that will help you achieve the perfect finish.
First things first, you need to start with a great primer. Primers help to keep your makeup in place, and provide a base for your other products. Look for one that has a light weight formula and is oil free, as this will prevent a heavy, unnatural-looking finish.
Next, use a light-reflecting foundation to give skin a healthy-looking glow. Look for one that is formulated with light-diffusing particles, which will make your complexion look naturally radiant while also blurring out any imperfections.
For a natural-looking flush, reach for a cream blush. The cream formula will help the blush look more natural and subtle, as opposed to a powder blush that can come off looking a bit too intense.
Finally, finish the look with a light dusting of setting powder to set the makeup and help it last for hours. Choose a sheer, translucent powder, as this will help keep your complexion looking soft and natural.
These products should help you achieve the perfect natural-looking finish, so you can look your best all day long!
Which foundation is best for natural look?
When it comes to achieving a natural-looking finish, one of the most important elements of your makeup routine is the foundation you choose. My go-to recommendation? Hourglass Veil Fluid Makeup. Not only is it long-wearing, it also has an oil-free, buildable, medium-to-full coverage formula that creates a natural-looking, flawless complexion. Plus, it's formulated with diamond core powder technology to diffuse light, minimize the appearance of imperfections and blur out the signs of aging — making it the perfect choice for a natural glow. Plus, it has SPF 15 to provide sun protection, so you don't need to worry about that either!