My Guide to Looking Gorgeous with Just Mascara
Hey, lovely people! Welcome to my ultimate guide to looking pretty with nothing more than mascara. In case you don't already know, mascara is a beauty product that enhances the length, thickness, and volume of your eyelashes. It's also a less time-consuming alternative to applying false lashes or eyelash extensions.
So, why should you consider including just mascara in your makeup routine? Well, for starters, it saves you money and time. Plus, it enhances your natural beauty without being overwhelming. You don't have to worry about having too much makeup on or looking overdone.
Before we dive into the application process, let me tell you that there are a few important prep work steps to take. These will set the foundation for a flawless mascara look that lasts all day. You don't want to skip them!
Getting Ready: It's Prep Work Time!
Before even thinking of applying mascara, it's essential to prep your skin. Not only does this ensure the longevity of your makeup, but it also promotes healthy skin. I start by cleansing my face with a gentle, pH-balanced cleanser, followed by a moisturizer that suits my skin type. After that, I address my eyebrows. I brush them upward with a spoolie brush, trimming any excess hair with tiny scissors. This is because if there are any stray hairs, or if my eyebrows are uneven, it could detract from the final look.
Get Your Lashes on Fleek: Applying Mascara
Alright beauties, it's time to apply some mascara! Before we start, let's make sure we have everything we need: mascara, eyelash curler, and a steady hand. Let's dive in.
Curling the Lashes
First things first, let's curl those lashes. Hold the eyelash curler at the base of your lashes and gently clamp down. Hold for a few seconds before moving up the lash line and repeating. This will help give your lashes some extra lift and make them appear longer.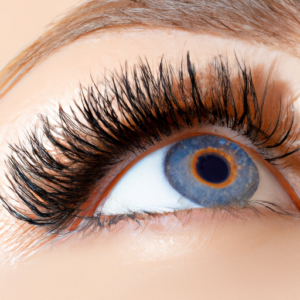 Now it's time to get that mascara wand out! When applying mascara, start at the base of your lashes and wiggle the wand back and forth as you move up towards the tips. This will help give your lashes more volume and prevent clumps. If you want extra length or volume, wait for the first coat to dry before adding a second coat.
Combining with Other Products
If you want to take your mascara game to the next level, try combining it with other products. For example, you can layer a coat of clear mascara on top of your regular mascara to give it some extra hold. Or, you can use an eyelash primer before applying mascara to really amp up the volume.
Now that you know how to apply mascara like a pro, go ahead and bat those lashes! Don't forget to check out some of my other beauty tips and tricks for keeping your makeup game on point.
Finishing Touches: The Final Flourish to Your Look
Alright, so you've mastered the art of applying mascara, now it's time to add some finishing touches to complete the look. Here are my top tips for looking pretty with just mascara:
Applying Blush: Add Some Color to Your Cheeks
Don't skip this step! Blush can make a huge difference in making your makeup look complete and natural. Choose a color that complements your skin tone and apply it to the apples of your cheeks. You want to look like you just came back from a brisk walk, not like a clown.
Adding Lip Color: Pucker Up
If you're going for a natural look, a tinted lip balm or lipstick in a shade that's close to your natural lip color is perfect. Apply it to moisturized lips for a hydrating effect. If you want to add some drama, a bold lip color can be an instant game-changer. Just make sure to choose a shade that works well with your skin tone.
Setting with Powder: Lock in Your Look
Don't forget to set your makeup with powder to make it last longer. Use a translucent powder to prevent your skin from looking cakey or overdone. Apply it lightly on your T-zone and any areas where you tend to get oily. This will keep your makeup in place all day long!
There you have it, my top tips for adding the final flourish to your look. Remember, less is more when it comes to makeup. With just mascara and a few finishing touches, you can look pretty and polished every day.
The Final Verdict: Looking Pretty with Just Mascara
So there you have it, folks – my expert tips on how to look gorgeous with just mascara. While it may seem like a simple beauty technique, there are a lot of little steps and tricks to getting it just right. It starts with prepping your skin and taking the time to groom your eyebrows. Then, it's all about curling your lashes and applying the mascara with care.
And don't be afraid to mix things up! You can always combine your mascara with other products, like eyeliner or eyeshadow, to create a customized look. When you're finished with your mascara, add a touch of blush and lip color, and set everything with a little powder.
Remember, everyone's beauty routine is unique and takes a bit of trial and error to perfect. But with these tips, you're sure to be well on your way to looking pretty with just mascara.
So go ahead, get out there, and bat those stunning lashes! You're going to look amazing.
FAQs About Enhancing Beauty
How do you make mascara look perfect?
Well, let me tell you, mascara can work wonders! To make my mascara look perfect, I always start by making sure my lashes are clean and dry. I curl my lashes gently with an eyelash curler to give them extra lift. Then, I use the right formula of mascara to suit my lashes. For example, I have long but thin lashes, so I use a lengthening mascara with a thin brush to make them appear fuller and longer.Next, I apply the mascara using small, gentle strokes from the base of my lashes to the ends. I like to wiggle the brush slightly as I apply the mascara to make sure each lash is coated evenly. I also apply a second coat to add more volume and drama. To avoid clumps, I use a clean spoolie brush to separate my lashes and remove any excess mascara. This also helps to create a natural look. Another trick I use is to apply mascara to my bottom lashes by holding the brush vertically and using small strokes.Finally, I finish off my look with a touch of eyeliner and some lip gloss. With just a little bit of effort, I can achieve a simple yet pretty look that highlights my natural beauty. And let's be honest, the occasional uneven line or slightly wonky lash just adds to the charm!
How do you look natural with mascara?
Well, let me tell you, girl, mascara can totally transform your look! But, if you want to keep it natural, there are a few things you should keep in mind. First off, choose a mascara that isn't too thick or clumpy. You want to add definition and length to your lashes, not create spider legs. Next, make sure to comb through your lashes with a clean spoolie brush. This will help separate the lashes and prevent any clumps from forming. I like to wiggle the brush from the roots to the tips, to really emphasize the length. If you want to enhance your natural beauty even further, try curling your lashes before applying mascara. This will give them a lift and open up your eyes. Most importantly, don't forget to take care of your lashes! Make sure to remove all your mascara before going to bed, and consider using a lash serum to promote growth and strength. Remember, confidence is key, so rock what you've got and don't worry too much about the details. You look beautiful just the way you are.
How do I look prettier without makeup?
Well honey, let me tell ya, you don't need a ton of makeup to look beautiful. One simple trick is to curl your lashes before applying mascara. This will make those peepers pop and give you a fuller lash look. Another key tip is to focus on your skincare routine. Wash your face twice a day, moisturize, and use sunscreen. Clear, glowing skin is the real key to a beautiful face, not a ton of makeup. You can also try enhancing your natural features with a little bit of brow gel and some lip balm. Lastly, confidence is key. Be proud of who you are and own your beauty. Trust me, people will notice.
how can i look pretty with just mascara?
Well, to be honest, I think the key to looking pretty with just mascara is all about the technique you use. First things first, always make sure your lashes are clean and dry before applying mascara. Next, start by curling your lashes to give them some extra lift and help them appear longer. Then, apply two coats of mascara, starting from the base of your lashes and wiggling the wand up towards the tips. Remember to let your lashes dry in between coats to avoid clumping. Finally, don't forget to use a lash comb or spoolie to separate your lashes and remove any excess mascara. With a little bit of practice, this simple mascara routine can really make your eyes pop and enhance your natural beauty. So go ahead and give it a try!